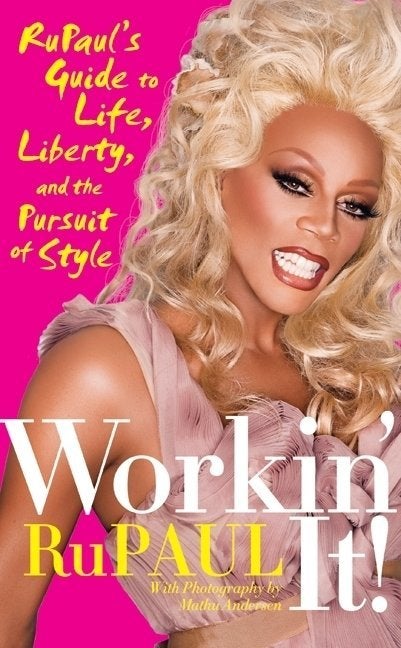 And then there were four... maybe.
Season 3 of RuPaul's Drag Race continues to pull all the Reality TV stops. In a surprise twist, RuPaul announced after last week's elimination that his panel of judges would choose one contestant they felt had been "let go too soon" and grant them the opportunity to jump back in the race.
If I were to write a story book about Shangela I might title it "The Little Drag Queen That Could". After being the first gal eliminated on Drag Race Season 2, she returned this season with, as she put it "a fire" in her to prove her critics wrong and to win the title of Next Drag Superstar. Shangela might have been sent home last week (or will she be the one to return... yet again?), continually critiqued for being a bit rough around the edges, but her body of work is already an impressive one, rivaling those of even past Drag Race winners. DJ Pierce has seized the moment passionately and smartly, and is not about to let go anytime soon.
JG: You've made Halleloo! a household word. Have you trademarked it?
Shangela: I'm so happy that more and more people are falling in love with 'Halleloo!' It's more than just a word, it's a feeling -- a way of expressing that super joy or positive outlook that you have on something. I choose to live in the 'Loo and I hope people find themselves smiling or laughing when they say it. To keep it tangible, there are "Halleloo" shirts and more available on Shangela.com. Yes, there's a pending trademark in the works. I learned a lil' something about business from Mama Ru.
JG: I watched the episode of Terriers where you played Michaela. I was quite impressed (and touched). It was a lovely portrayal. Will we see you in more films or tv shows?
Shangela: I loved the role of Michaela in FX's Terriers. The writers and director Alan Arkin wanted the role to be very touching and authentic and I was so glad to represent the transgender community in that light. As for more of me on the screen, trust me... I'm out here in Hollywood pounding the pavement and auditioning my tush off to get more roles in TV and film. And it seems to be paying off! I was recently cast in a new TV pilot for NBC written and directed by Michael Patrick King, with Don Johnson and Mario Cantone as leads. (Don't wake me if I'm dreaming.) What an experience, and if (when) it goes to series, get ready for an amazing show! Also, I co-wrote and debuted in my first short film last year called Body of a Barbie (co-written and directed by Lena Waithe) that aired on BET and was named a top 7 finalist in their national Lens on Talent shorts competition. But my eyes are always on what's next? I would love to start campaigning to have Shangela as the first drag performer on Dancing With the Stars! I've always had my eye on hosting a late-night talk show - so watch out, Conan!
JG: I'm a big believer that "anything goes" in comedy and that includes using stereotypes, (context matters, of course). You had a thing or two to say about Manila's Asian stereotype shtick. Do you consider your character, Laquifa, a stereotype?
Shangela: I love comedy. Even comedy that pushes the envelope. My comments regarding Manila's Asian stereotype came about because of the context where it was used, not the comedy of it. On the third episode we were challenged to showcase our personalities as newscasters and I personally didn't understand why someone would parody such strong Asian stereotypes at that time. You'll notice that during the celeb impersonation challenge where Manila does former first lady Imelda Marcos, I didn't throw any red flags nor was I offended on behalf of the puppet community when she dressed as Big Bird for the comedy challenge. I have no hard feelings against Manila. But Laquifa's no stereotype... she just IS LAQUIFA -- The Post Modern Pimp Ho. She was created for the stand-up challenge to make people laugh with the crazy stories I imagine pimp-ho's go through. If you find that I have offended the pimp-ho community please let them know I will gladly turn in my fur coats and clear heels by the end of the day.

JG: Please don't. It's Ho's and Queens that keep the clear heel industry alive!
Do you think that as a returning contestant the judges were any harder on you than the other girls?
Shangela: I don't think the judges were harder on any one contestant, but I did feel greater pressure to when it came time for critiques. In my head, I felt that the other contestants were judged on what they brought to the runway and to the challenge at hand. But in my case, I thought the judges were judging on what I brought to the table AND how I showed growth from last year. It definitely fired me up with more drive to prove that I belonged.
JG: What guest judge were you most excited about?
Shangela: Vanessa Williams. C'mon it's Ms. "Colors of the Wind" herself. A former pageant queen with fierce acting ability and killer diva glances. I was in awe of how she glowed -- literally!
JG: What fellow contestant would you most trust with a deep dark secret?
Shangela: In this day and age, I try not to hold any deep dark secrets -- they'll end up sold to TMZ for big money later on anyway! But if I had to pinky swear with one of the girls, it'd be Stacy Layne Matthews. She's a trusted friend and sweetheart plus, who's she gonna tell out there in Backswamp, North Carolina?
JG: I was saddened to hear about the disapproval you faced from family members. How is that coming along?
Shangela: Much better. After the episode aired where I discuss how some members of my family felt I'd disgraced them by being who I am (proudly and unashamed) in front of America, I received calls from relatives I hadn't spoken to in years. They all said they loved me and supported me. And of course, my biggest fans have always been my Mom and Granny. I think the embrace that RuPaul's Drag Race has gotten from mainstream America definitely helped bring everyone in my family to a place of acceptance, and for that I'm really thankful.
JG: I'm so very happy to hear that.
What is most important: Charisma, Uniqueness, Nerve or Talent?
Shangela: Nerve. It takes guts to make it in this world -- to be happy and really stand up for who you are and what you want. There are tons of talented, unique, charismatic people that just don't have the confidence to step on faith and take a shot at their dreams. I hope this helps people find inspiration in my journey and arc on the show.
JG: What would Shangela's theme song be?
Shangela: I wish it was "It's Raining Men!" because I've promised myself that I'll be open to finding a new relationship this year. But for now, it's Nicki Minaj's "Moment for Life." The song talks about wanting to have this moment for life because in this moment she feels so alive. That basically sums it up for me right now. I've come a long way from Paris, Texas and I'm living every moment to the fullest.
JG: What has been the best part about the entire Drag Race experience?
Shangela: Working so closely with RuPaul. It's from studying Ru closely that I'm learning how to balance being a sickening entertainer with being a successful business person. RuPaul is a genius when it comes to branding, performing and engaging in several different ventures at once. He's the ultimate multi-tasker and he can do it 6-inch stilettos! Werq!
JG: What is next for Shangela?
Shangela: I hope a nap. I'm finishing this interview now so that I can go 'get in face' for a performance tonight at the Mirage Hotel in Vegas. I'm touring all this year in clubs across America (and hopefully worldwide) to meet and entertain as many fans as possible. I'm strongly hoping that NBC picks up A Mann's World pilot for its lineup. In the meantime, I'm also working on a one-hour stand-up comedy special and a couple fun music projects. There's no one path for any of us. Life is what you make it and I'm working hard to make it unforgettable.

RuPaul's Drag Race airs Monday nights at 10PM/9c on Logo. Stay tuned for weekly interviews with the remaining finalists as well as with Drag Race's outspoken judge, Michelle Visage.

Calling all HuffPost superfans!
Sign up for membership to become a founding member and help shape HuffPost's next chapter