All eyes will be on Lady Gaga and Bradley Cooper at the 2019 Academy Awards when they take the stage to perform "Shallow," the Oscar-nominated song from their acclaimed film "A Star Is Born."
Two of their drag queen co-stars, Shangela and Willam, got the celebration started early Sunday as they hit the red carpet in breathtaking looks.
Shangela appeared alongside actress Jenifer Lewis, who assisted her with the train of her lavender and gold gown.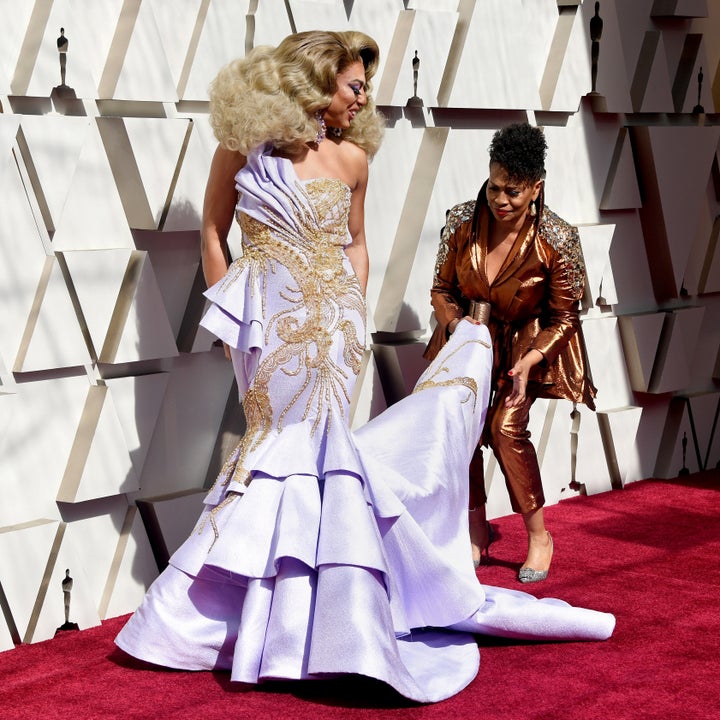 Willam, meanwhile, offered some rolling Oscars commentary on E! News.
Shangela teased her appearance on Twitter earlier Sunday, saying she felt "like a kid waiting for Christmas morning."
Immediately after she strolled the carpet, she called the moment "a dream."
Speaking to Variety, Shangela said she was "just so grateful" to be appearing at the ceremony."
"I think I might be one of the first, if not the first, drag queens, in drag, to ever walk down the red carpet at the Oscars," she said. "And I hope that means something to somebody out there, because it means something to me."
Others pointed out the significance of the moment with regard to queer representation.
The two queens appear in an early but critical scene in "A Star Is Born," when ingenue Ally (played by Lady Gaga) wows veteran rocker Jackson Maine with a performance of Edith Piaf's "La Vie En Rose" in a drag bar.
"I wanted to put him in a situation that you would think he would behave a certain way, but he doesn't at all," Cooper has said of the scene, as seen in the interview above. "It sort of felt like a drag bar would be the perfect place to explore and then define for the audience who these people are."
Popular in the Community