In the world of drag, Acid Betty is an absolute enigma. A true individual, she is giving a completely different kind of drag to this season of RuPaul's Drag Race. But behind the eye popping looks, Acid Betty is wickedly smart and truly tips her hat to those that have come before her. She sat down with us to chat about the new season of RuPaul's Drag Race, her unique love for the arts, and why knowing your history is so important.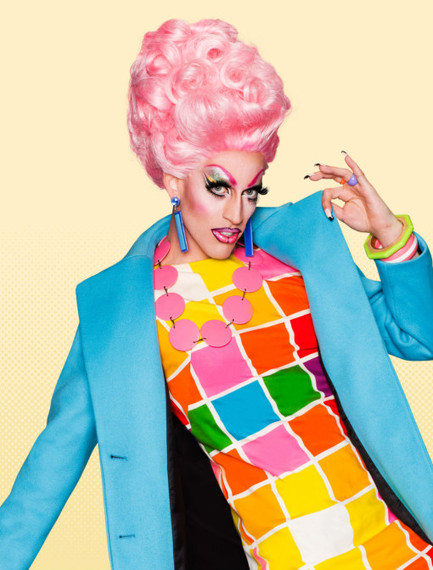 You're one of the most daring queens to ever step through the doors of the RuPaul's Drag Race workroom. For those that have never seen your drag, how would you describe the Acid Betty experience to them?
It's something that you maybe have never seen or experienced before. I try to take drag not to another level, but to a separate level. I try to incorporate more than female impersonation. I try to provoke emotion or controversy, and actually try to get people to think about the art of drag itself.
Many queens get into drag with the intent of looking like one of their favorite "divas" like Madonna or Jennifer Lopez. What made you get into drag and go into a completely diagonal direction.
I think it was the only way to be true to myself. I always say that I don't feel comfortable lip synching to Rihanna because I think Rihanna did it better. It's like when someone tells me they impersonate someone like Barbra Streisand. I think that's great, but I think Barbra does Barbra a lot better. I think I was really concentrating on creating my own persona. Being in New York City with drag queens like Lady Bunny, Kevin Aviance and even Leigh Bowery, all of these people are personas themselves, they're not really impersonators, so I think I was really attracted to that.
I adore the fact that you mentioned Leigh Bowery. He was an absolute drag and performance icon and so many girls don't know who someone like that is.
That's gross. LOL. Three are so many people who came before us that are so important.
What was your favorite part of the the RuPaul's Drag Race experience?
I think it was actually hanging out with the girls. I'm kind of a one girl show, I do everything by myself. Go to the clubs myself, etc. It was great having that kind of sisterhood. I also have a musical theatre background, and some of the challenges had to have us sing or dance. It was great getting to unlock those talents that I had locked away and get to sing again and dance again. There were a lot of parts of the experience I enjoyed.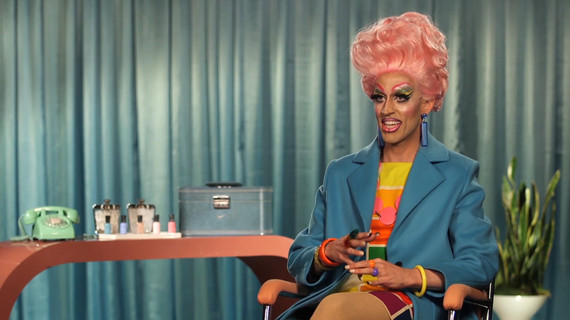 You mention being somewhat of a loner or solo act of sorts. Why do you think that is?
You know, that's a really good question. I feel like part of the beauty and persona of Acid Betty is to be a a provocateur. I think with that, a lot of people are uncomfortable and may not understand. I do have a lot of friends and people that enjoy me, but it's really hard to say. I feel like it was handed down to me from Lady Bunny or Miss Understood that it's part of my job to be a presence in the room. Joey Arias always says 'when she paints, she paints on the Goddess" and I think I'm starting to realize that. I've been painting on Betty so much, I'm starting to see that it's a transformation. there is a responsibility that when I am this person I have created, I need to fulfill it. My job certainly isn't to just sit in a chair in the corner.
Your style of drag is so daring and very one of a kind. It's a style that many people may not have seen before, especially if they're coming from a small town. Do you think that was an advantage for you going in?
I think it was an advantage and a disadvantage at the same time. I think it was an advantage was that I felt comfortable and it was like I went through drag bootcamp. To be put into a scenario where you had to trust yourself and your instincts in a split second, I had that confidence so it definitely helped me in the competition. I think it was detrimental to me because I couldn't rest on my laurels since my drag is so out there and so outlandish sometime that it could almost be the wrong answer of sorts to the challenge. My number one concern was that they would not take to me at all, and everyone would stand out and it would be oil an water.
I know you're able to bring a certain amount of suitcases to the show, so how difficult was it making the wonderful insanity of Acid Betty portable?
Oh my God. It was tough, and I was going to be on t.v. so you want to bring the craziest and biggest pieces and some of them just don't fit into a suitcase!
What inspires you on a daily basis?
I'm addicted to surrealist art and street art. I'm always looking at the characters that some of these artists like Alex Party or Puff Monster create and I think I try to provoke that in the physical world, I think that's where I get a lot of my inspiration. I want to be like a walking Dali art. I think that's why I've named myself Acid Betty, I want to be a walking trip.
Where does Acid Betty want to be in five years?
I want to be in art galleries. I want to create installation work that is inclusive of performance art, drag, sculpture, painting, all of that!
RuPaul's Drag Race airs Monday nights on LOGO (check local listings)
Calling all HuffPost superfans!
Sign up for membership to become a founding member and help shape HuffPost's next chapter