Mrs. Kasha Davis certainly understands fans' weekly fervor as they watch RuPaul's Drag Race. Like others, she too is an avid viewer...obviously. But the Season 7 star reminds audiences: "It's reality television; it's not real."
"You're under a lot of pressure," Mrs. Davis stated, seemingly brushing aside the backstage tensions, onscreen rivalries and personality conflicts between contestants, which air every Monday on LOGO Television, "Stuff is going to happen."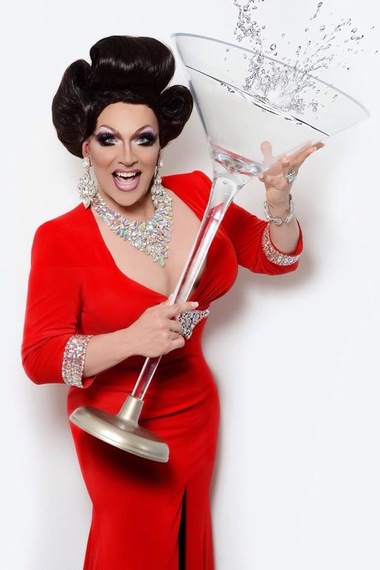 RuPaul's Drag Race Star Mrs. Kasha Davis
Photographed by Jose A. Guzman-Colon
Mrs. Davis, a campy favorite this year in the televised series to crown "America's Next Drag Superstar," denotes competition often brings out unexpected sides of performers. Still, she feels broadcasts accurately reflect who each girl is. And for those who claim "editing" has turned them into something they're not?
"Certainly they can manipulate things to look a certain way, but here's the deal: There's a lot of stress. There's a lot of pressure," Mrs. Davis continued. "We're queens. We get together, we're sisters...people get into arguments, just like any other family. What's the big deal?"
That's certainly an enlightened perspective on the show's dynamics -- but not unexpected from Mrs. Davis. As one of the season's most, ahem, "mature" competitors, the 44-year-old speaks as someone in an eleven-year relationship with Mr. Davis and experience raising her partner's kids from a previous, heterosexual marriage.
"I came into his life where he was divorced, and obviously had two children, and I got to be 'Aunt Ed,'" said the drag diva. The daughters, now in their early 20s, consider Mrs. Davis a role model. "If I can be that to them," she asked, "What more is there?"
Watch: Ross Mathews, Michelle Visage, RuPaul? Pearl, Violet, Miss Fame? Who Would Mrs. Kasha Davis "Marry, F*ck, Kill"?
Well, for this star, the answer is plenty! In April, she released her first music single -- "Cocktail" -- and debuted a one-woman show at Laurie Beechman Theatre. The autobiographical There's Always Time for a Cocktail returns to the acclaimed New York City location May 12.
"It's a show about accepting yourself and accepting others - and maybe forgiving those who are struggling with who you were," Mrs. Davis described the show, "I think it's so important right now for kids -- and for adults -- to have those kinds of examples out there."
The value of sharing a positive message with young people was driven home recently through a social media blunder, Mrs. Davis said. In preparation for this interview, she accidentally Tweeted her home telephone number. She was immediately flooded by calls from fans, mostly teens.
"There was so many nice kids - 15 to 20 years old - just wanting to talk," she detailed. Calling the experience "wonderful," she graciously spoke to each as Mr. Davis videotaped the calls, presumably for a future update to her YouTube channel. "They were so sweet!"
Like other viewers, Mrs. Davis has a favorite to watch this season. For her, that's the "gorgeous, sometimes ridiculous" Katya. She was partnered with the Boston-based entertainer on an episode which saw all eliminated queens return to compete for re-entry into the contest. (Trixie Mattel was ultimately brought back.)
Watch a Teaser Video for Mrs. Kasha Davis' Debut Single "Cocktail"

"It was a hoot and holler," she laughed of a "Conjoined Queens" challenge, which saw the two "attached at the va-jay-jay." "That Katya is so fun and so creative."
Still, Mrs. Davis is rooting for Ginger Minj or Kennedy Davenport to take this year's Drag Race crown. "I just love their style," she divulged, "In terms of drag, in terms of what they've done throughout the years, in terms of the dues they've paid."
However, that's not who she thinks is likely to win this year. That eye-opening social media mishap-turned-unexpected-blessing shaped her perspective on that, she said.
"Who will probably win is Pearl," predicted Mrs. Davis. "She's what the viewers want."
Painted as a sleepy-eyed underdog, and clearly as handsome as a male as he is gorgeous in drag, Pearl has already twice had to "Lip Sync for Her Life." Repeatedly told to "wake up!" by the judges, she's shown growth and come on strong in recent episodes.
"There's a story. There's an arc. There's a struggle," Mrs. Davis explained, "This is someone a lot of the kids watching can relate to."
Watch Pollo's interview with Katya here.
Watch Pollo's interview with Trixie Mattel here.
REAL LIFE. REAL NEWS. REAL VOICES.
Help us tell more of the stories that matter from voices that too often remain unheard.