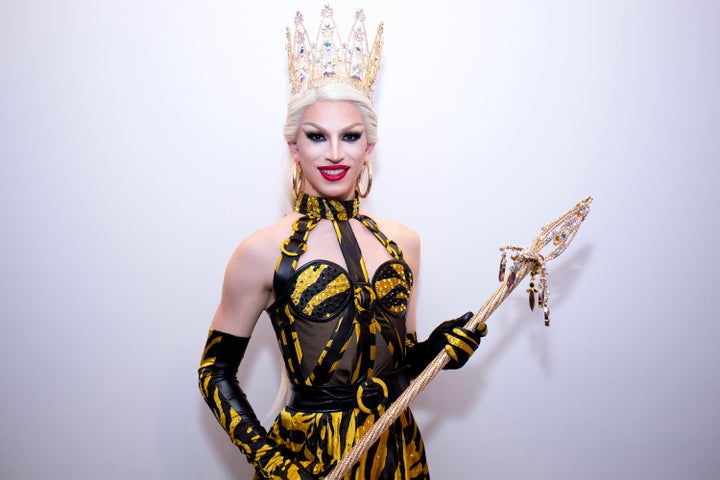 Turning looks, stunting pretty, she's one of the youngest winners in "RuPaul's Drag Race" herstory.
New York City queen Aquaria was crowned the next drag superstar at just 22 years old on Thursday night ― in a finale that closed perhaps the most hotly contested season ever.
There wasn't a runway Aquaria didn't slay all season ― gagging on her eleganza doesn't even begin to cover it. She brought unrivaled fashion sensibilities to the competition week after week. But it was her spark, figuratively and literally (we'll get to that later), that pushed her past competitors Asia O'Hara, Kameron Michaels and Eureka O'Hara in a series of back-to-back lip-syncs.
After a butterfly effect of a different sort ― Asia O'Hara's plan to release their fluttering magic on stage went so, so wrong ― the final three faced off in a gravity-defying showdown to "Bang Bang" that proved Aquaria can not only turn a look but shut down a room.
The morning after her victory, HuffPost caught up with Aquaria about her plans as the reigning queen, what exactly went down during that lip-sync and how she grew up during the competition.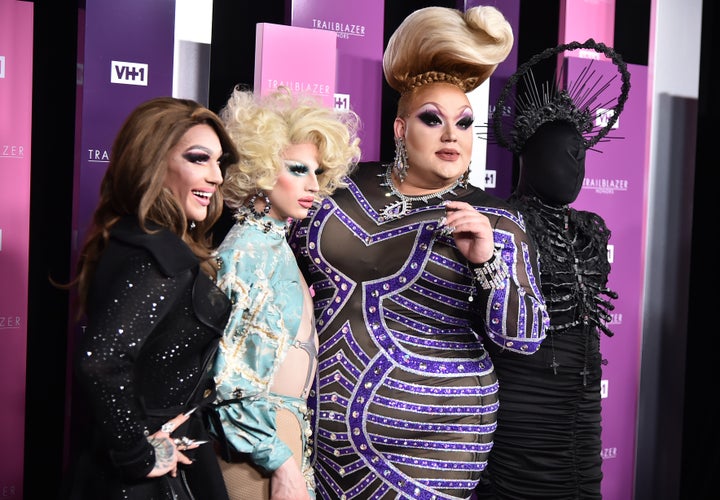 To borrow a phrase, you winning the crown made me ~so emotional~ last night. What was going through your mind when Ru announced your name, especially with your mom in attendance?
I'm so blessed to have family that's so supportive of my choices ... trademark! Just to be able to accept the crown in New York City ― I couldn't imagine it anywhere else and I couldn't be more grateful about making my city proud.
Throughout the competition, your age was something that made you stand out, but it was also something people perceived as a weakness. Now that you're one of the youngest winners ever, do you think it was an asset on the show?
A lot of my good moments came from my ability to be flexible, understanding, and a grower, not a shower. I knew that during the competition my age would be put to the test, but I knew that as a young dog you can teach me new tricks. I'm very receptive to direction, to change and to developing myself as an artist and human. I definitely have not necessarily an edge, but at least the benefit of my youth. I had an understanding of that and was very open to the positive things that came out of it.
Tell me about your final lip-sync look with the star-studded cape. What were you trying to communicate to the audience when you lit that spark on stage and how did you come up with that stunt?
I wanted the final look to be active because I'm a dancer. I genuinely think I might be the most dance-y winner of "RuPaul's Drag Race" we've had yet. I dance. I wiggle. There was a fashion illustrator I came across on Instagram and I saw this camouflage-army-green version of the look I did. I was like, "Dude, can I do my own interpretation?" and he was very cool.
I had a strong feeling that our final lip-sync song would be "Bang Bang," given the options that we had, so I knew that I was going to have those small little gags on me. I knew it was fitting to have lots of bang, so I wanted to capture the audience's attention immediately with a little spark of magic. The best way to end a performance is to go out with a bang ― and bang I did.
There are so many fashion moments to chose from, but is there any one look that you are proudest of from the season?
My mermaid look, the Last Ball on Earth look, the good twin/bad twin looks ― everything I put out on the runway was so meaningful to me. I'm very thoughtful and thorough when it comes to my looks and the detail I put into my drag. Just to bring my ideas and concepts, and those of my friends and people that I know in the city who are creators, to life and be successful with them just made me feel very humbled and grateful.
I put in a lot of work getting into the competition as quickly as I did, but all my designer friends also spent so many hours and so much effort ― literal blood, sweat and tears ― to make me look as good as I can. Those were definitely my better moments from the show, but all around from start to finish, every designer from the city that I worked with, all deserve a round of applause for making every single one of my looks as memorable as they were ... except for the drag-on-a-dime challenge. That was my fault.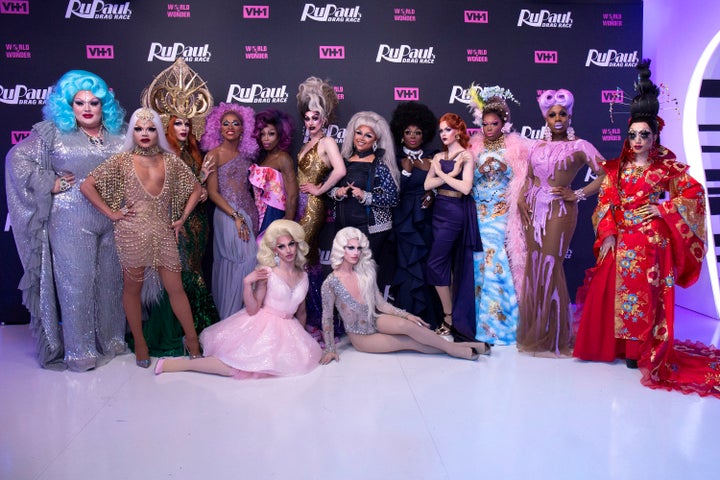 This season, perhaps more than any other, has revealed the racism within the "Drag Race" fandom. Your clash with The Vixen early on in the season became a lightning rod for that much-needed dialogue. In the finale, it looks like she's cheering for you. What's your relationship like now and how have you grown from that moment?
At the beginning of the competition, I wasn't expecting necessarily to get awoken and shook up by her so quickly. After being confronted in that way, it put me into bitch mode, so I was like I'm just going to be a bigger bitch, throw my shade and be sassy hunty! That didn't work out so well because, while I said something nasty to someone else and obviously they are gonna take offense, I didn't realize that it was just not an "LOL, never mind" thing. So I completely understand the position that I unintentionally put her in, and she knows that I'm a person who's very understanding and mindful and a lot more quote-unquote woke than sometimes people give me credit for.
It was a great moment that hopefully a lot of people watching can learn from and be more mindful about how they go about their interactions in the real world. Even though I do get the message she was delivering already, this is how I put it into action and it really sparked a bit of a change in me. I love The Vixen house down the boots. She is such a fantastic entertainer with such a power message.
In your year as reigning, what do you want to impress upon the world about the power of drag?
Every day I'm learning new things about myself. Every day I'm learning new things about life. Every day, especially this year, I'll learn about the power of the title and what that means. I know Asia O'Hara had a very strong concept of what being the next drag superstar meant to her and even not winning the crown meant to her. I think her mindfulness and insight definitely informed how I plan to go about my reign.
The competition for me was initially all about how can I better myself as an entertainer, how can I entertain more people and how can I impress my fans with the best drag that I can put out. I definitely want to continue that, but day to day I want to also learn what the power of the crown means and how to make our community and the world a better place.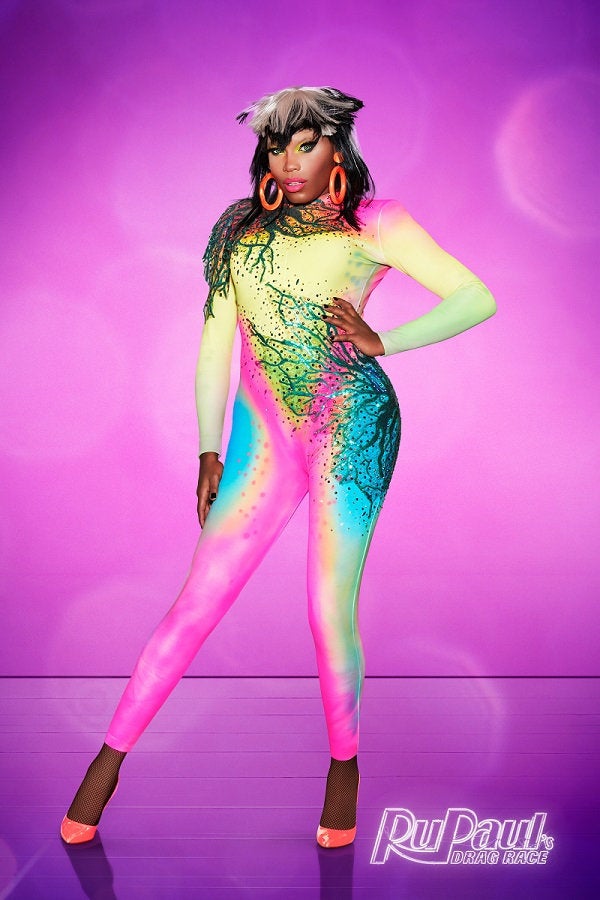 "RuPaul's Drag Race," Season 10
Popular in the Community