Pandora Boxx's quirky charms and comedic chops won the hearts of many during the second season of RuPaul's Drag Race. Entertainment Weekly picked her as their "Next Drag Superstar"and deemed her elimination from the competition, that season's most controversial. To everyone's delight Pandora returned to Logo as a drag professor on RuPaul's Drag U where she continues to coach the inner-diva out of women and served as hostess-with-the-mostess of One Night Stand-up: Dragtastic NYC.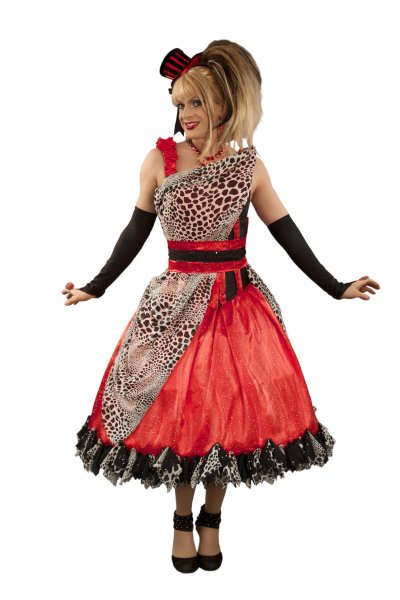 JG: If you had the chance to produce your own episode of Drag U, what would the theme be and who would you cast?
PB: I think I would do an episode of RuPaul's Drag U with school teachers. They work so hard for such little money. They deserve to feel fabulous! It would also create an interesting dynamic with the teachers getting schooled!
Or maybe get three gals from one of those polygamist cults? The ones that look like Laura Ingalls-meets-Best in Show. Those poor ladies need it. Almost as much as they need a grip, a clue and a mirror.
JG: Pandora is first and foremost known for her endearing and infectious sense of humor. To what or whom do you attribute this quality?
PB: First of all thank you! I think it's a few reasons really. I think there is a "funny gene" that people are born with and you can't escape it no matter how you try. My mother also is quite funny. She actually cracks herself up all the time which is funny to watch. Humor was also a defense mechanism from getting picked on at school. If I could be funny maybe people wouldn't bother me.
JG: Tell us about The Lipstick Massacre.
PB: The Lipstick Massacre is a play that I wrote, co-produced and starred in. We did two successful runs in Rochester, NY. It was something I've always wanted to do. The play centers around Daphne Von Haussenpfeffer who is the top commercial actress in town. People start being killed off who stand in the way of her career so she becomes the number one suspect. I played Daphne. I would love to do another run of it in a bigger city someday. Theater is tough. It's such a huge time commitment but I will always love theater.

JG: I read that you are a gamer. What are you playing at the moment?
PB: I've been outed! Right now I haven't had any time to play but when I get some free time I'll go back to playing Dragon Age: Origins and Dragon Age II. Great games! I love that you can make your character gay. I'm also love, love, loving Alice: Madness Returns. That game is A-mazing!
JG: Drag U is so much about changing negative self-perception and habits that hold us back. If you could change one thing about yourself, what would it be?
PB:Oy! Just one thing? I would say I should practice what I preach. It's a lot easier to show and teach people how to love themselves than it is to do it yourself. I still struggle with it sometimes. I wish sometimes I could always feel that I'm good enough, smart enough and gosh darn it, people like me!
JG: Another common theme on Drag U is helping women regain the confidence to rekindle their love lives. Nosy minds want to know: Is there an "other-half" to Pandora/Michael?
PB: Ha! I do have a boyfriend/fiancé. Ian and I have been together five years which I think in Gay Years is about 20, right? I don't talk about him too, too much because it feels odd when complete strangers come up to me and start talking about people in my life. I do pimp out my dog, Bugsy, all the time on my Facebook and Twitter pages. He's a fame whore.
JG: Speaking of spicing up love lives, what are some ways you'd advice someone to do just that?
PB: We tend to take things for granted that we've had for long periods of time. Take a moment to appreciate the person in your life. Realize why you are with them. Take a moment with them and really be in that moment completely.
JG:Tell us something about Pandora we haven't already learned from watching Drag Race or Drag U.
PB:There is so much you haven't learned about me yet! A Boxx has many sides, you know. Let's save that for my own show which hopefully will happen one day. If I dream it, it will come. Right?
JG: Indeed! And you totally deserve your own show. What is the best part of being a reality TV drag celebrity?
PB: Is that what I am? I hope there's a nice topical cream to cure that.
JG: (laughs) Any negatives?
PB: There's photos too? Who uses negatives anymore. Isn't everything digital? That's the last time I trust a clown with a disposable camera who says, 'Just the tip.' Wait, what am I even talking about anymore.
JG: This will come out sounding wrong but here goes: What can you tell us about "Cooter"?
PB: That's very forward of you! But since you asked, "Cooter!" is my debut single. It's a campy dance song about how I wish I had a cooter, for a night, so I could sleep with a straight guy. We pushed back the release date so we could get the music video done and release them together. I'm so very excited and I hope people will love my Cooter! So far the few that have sampled my "Cooter" absolutely rave about my "Cooter". My "Cooter" should drop in September.
JG: I wait with great anticipation. I can't wait to get my hands your "Cooter".

RuPaul's Drag U airs Monday nights 9/8C on Logo.
Calling all HuffPost superfans!
Sign up for membership to become a founding member and help shape HuffPost's next chapter