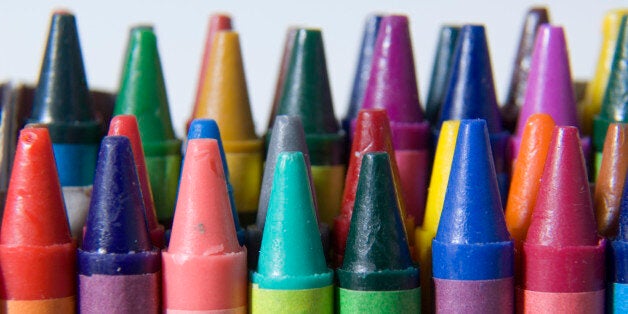 "We're all born naked and the rest is drag," true words by RuPaul whose 2nd Annual DragCon bats its fierce lashes at the Los Angeles Convention Center on May 7 and 8. And my how it's grown in a year. Sponsored by Logo, DragCon premiered last year as a way to unite the drag community and give this most fabulous tribe a place to come together. There is no convention on Earth quite like this.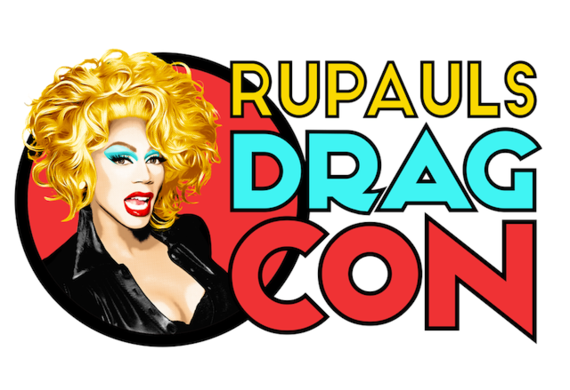 2016 has been a banner year for RuPaul. In addition to DragCon, Logo has not one, but two RuPaul-hosted programs: game show Gay For Play and Season Eight of Drag Race, which reached the landmark 100th contestant. RuPaul is also a must-watch judge on GSN's body painting competition, Skin Wars (now airing Wed 10/9c). And RuPaul, the recording artist, celebrates album number TEN with Butch Queen, which hit #3 on Billboard's Dance/Electronic Album chart earlier this year. Let's face it, RuPaul has been leading a movement. He is as important to our world as Oprah, and deserving of as much respect. Why RuPaul's shelves aren't lined with Emmys, Grammys, NAACP Image Awards, MTV Video Music Awards, and more is beyond me.
RuPaul (courtesy of World of Wonder)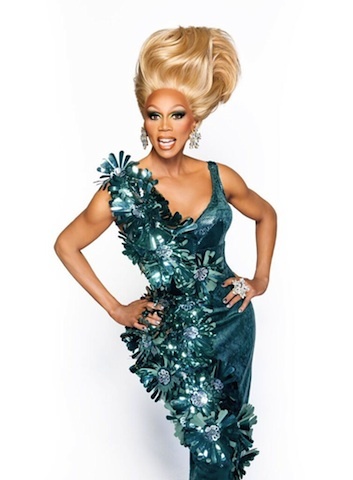 I had the pleasure of chatting with two of DragCon's creators, RuPaul and Randy Barbato, who, with business partner Fenton Bailey, runs World of Wonder, the powerhouse production company responsible for RuPaul's Drag Race, Million Dollar Listing, Mapplethorpe: Look at the Pictures, The Eyes of Tammy Faye, and many other pop culture pleasures.
Xaque Gruber: If you were to put together a Drag Hall of Fame, who would be your first five inductees? 
RuPaul: But darling, I AM putting together a Drag Hall of Fame. It's called RuPaul's Drag Race. I bow down to all 100 queens that have shared their stories with the world and brought a new awareness to the art of drag. All of us on Drag Race stand on the shoulder pads of the queens that came before us. There are way too many to name just five.
XG: Randy, have you stayed friendly with all 100 Drag Race contestants?
Randy Barbato: Well Sahara Davenport is sadly not with us anymore, but everybody else is, and I love them all and would like to think they are all coming to RuPaul's DragCon. If my house were big enough, I'd have them all over for tea on a regular basis. I've always believed, along with Fenton and our Executive Producer, Tom Campbell, that ALL the Queens are winners. They are our heroes.
XG: Comic-Con had small, humble origins before eventually exploding far into the mainstream. With DragCon growing larger in its second year, is making drag mainstream or more accessible part of the goal?
RuPaul: The impetus for RuPaul's DragCon was to create an event where Drag Race fans could spend time with their tribe. It's not about young or old, gay or straight; it's about people who love to use all the colors in the crayon box -  and who don't take life too seriously. 
RuPaul's Keynote Speech at the 1st Annual RuPaul's DragCon:
XG: People may not envision the full spectrum of drag that you present at DragCon. I'm talking about unconventional visionaries like Love Connie, Acid Betty, Mx Querrrk. Can you comment on the expanding definition of drag?
RB: You have no idea what a Love Connie fan I am. Sometimes when I watch John Cantwell perform as Love Connie, I cannot breathe I am laughing so hard. Love Connie and Acid Betty are great examples of turning drag inside out and spinning it on its head. They expand our notion of not just drag, but art.
RuPaul: Drag is an expression of your imagination. If you can dream it, you can become it.  It's as simple - and as infinite - as that!
XG: I love that Henry Rollins is on a DragCon panel called "Drag Is Punk."
RB: Right? Well drag IS punk. It takes a kind of genius I think to approach life from the point of view of a drag queen. It takes bravery but it also takes brains. There's a wisdom you need to live that life.
XG: For those going to DragCon for the first time, what do they need to know?
RB: Bring comfortable shoes. There's a lot of space to cover. And do your homework before you come because there are so many panels, screenings, and over 200 exhibitors. You could get overwhelmed so be strategic and do your homework beforehand. I'm working the World of Wonder booth and something about selling T shirts brings out the Jersey boy in me. It's such a high. I cannot wait.
XG: Randy, you have kids of your own - do you bring them to RuPaul's DragCon?
RB: I have two year old twin sons, and they went to their first DragCon last year. We did photos on the pink carpet and they worked at the World of Wonder booth with me (laughs). DragCon is a place were families and kids interact with queens of every stripe.
RuPaul's Drag Race airs Mondays 9/8c on Logo:
XG: When you consider that pop culture's first teaser of RuPaul was in The B-52s' Loveshack video, and then a few years after that Supermodel (You Better Work) was all over radio and clubs, then a few years after that The RuPaul Show on VH1 and then Drag Race many years after that. So RuPaul's DragCon has actually been a long time coming - it's not an overnight happening.
RB: Yes, DragCon's been a LONG time in the making. It appears like an overnight success but it's not. It's also a great opportunity for the public to show their love and appreciation for the artistry seen on RuPaul's Drag Race.
XG: Going back to your earliest years, was there a moment where you remember first seeing drag and saying "this is interesting."
RB: I was always fascinated and obsessed with drag and gender fuckery. I did my N.Y.U. grad school thesis film on a drag queen who moves to suburbia. To this day, no stars are as big to me as the drag stars from The Pyramid Club in New York City where Fenton and I used to go. We've always been outsiders, and we still are. We've got a bit of freak in us.
XG: Share with us what it's like to work with RuPaul.
RB: He's a great businessman and I love working with him on a business level, but I am so moved by his ability to connect with people on a deeply spiritual level. He's not a snob, and he has persevered for over thirty years. What he offers is deep, and his depth has generosity. It's wonderful to see people really get that.
RuPaul's first single U Wear It Well from the new album Butch Queen:
Calling all HuffPost superfans!
Sign up for membership to become a founding member and help shape HuffPost's next chapter