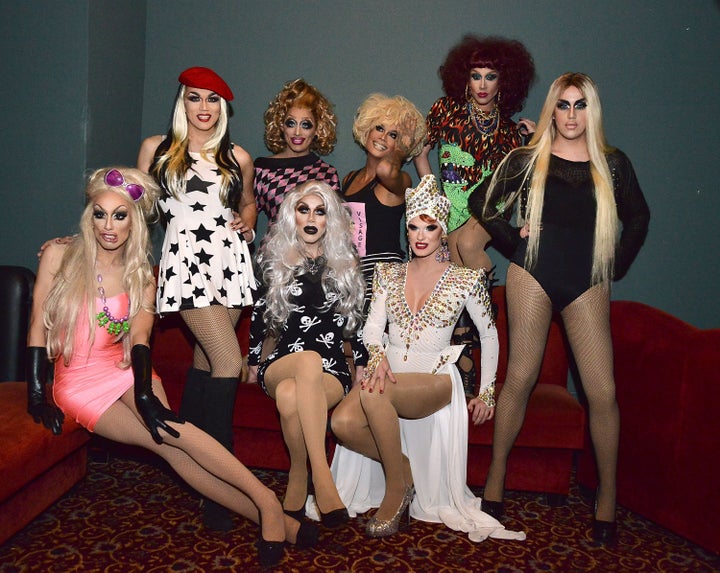 Hundreds of drag queens, queer artists, performers and fans will descend upon Los Angeles this weekend for the second year in an ongoing experiment in cross-generational queer community culture: RuPaul's DragCon.
The first convention of its kind that's dedicated purely to the artistry of drag, DragCon is the brainchild of RuPaul, Randy Barbato and Fenton Bailey -- the executive producers of beloved reality television show "RuPaul's Drag Race." This weekend's event, which will be held at the Los Angeles Convention Center on May 7 and 8, will mark the return of DragCon after an estimated 14,000 people attended the convention's debut last year.
"'Drag Race' is a sort of catalyst for DragCon, but it's so much bigger than that," Barbato told The Huffington Post. "And we're really trying to be broader and more inclusive in terms of helping get more queens, more types of drag, because drag is a state of mind and it's been around long before 'Drag Race.' The whole idea of 'Drag Race' has always been to shine a light on the artistry of drag in general. So we're fortunate enough that 'Drag Race' has one-hundred stars that have come through, but the great thing about DragCon is there's going to be hundreds more legendary drag queens appearing that inspire many of the queens on the show."
Among the queens set to appear is New York legend Linda Simpson, who will present her incredible collection of photos from the "Drag Explosion" in NYC in the late 1980s and 90s.
"I look forward to special guest Amber Rose revealing her method for tucking," Simpson joked with The Huffington Post. "I'm also thinking of setting up a foot massage booth since there are going to be a lot of queens roaming around in killer high heels."
Throughout the weekend, queer influencers and performers will be involved in panels covering an impressive range of topics from the legendary New York drag scene RuPaul came out of to the art and experiences of drag kings to a conversation on why drag is punk.
Additionally, Huffington Post Deputy Editor JamesMichael Nichols will be moderating a panel on Brooklyn drag Saturday, May 7 at 3 p.m. (see the flyer below).
At the heart of this convention, however, is a focus on bringing together those in the queer community who feel influenced, touched or affected by queer performance and celebrating those connections while simultaneously encouraging and making them more accessible to more people.
"Ru would say we have a responsibility with this show to not only make it really great but also to find a way to bring people together," Barbato said. "It's sort of like – it's like an extension of being good producers, you know -- we've identified this group of people, our tribe, and want to bring them together."
RuPaul's DragCon will take place at the Los Angeles Convention Center May 7-8, 2016. Head here for more information.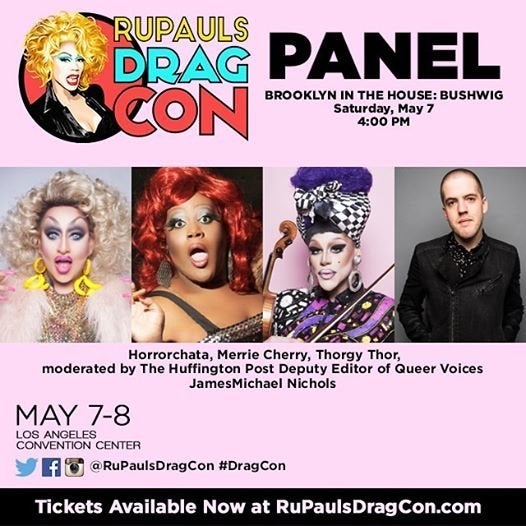 REAL LIFE. REAL NEWS. REAL VOICES.
Help us tell more of the stories that matter from voices that too often remain unheard.