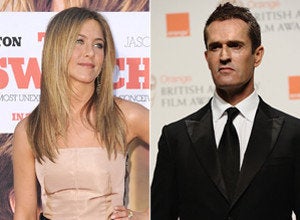 Despite the stereotype, Hollywood is not at all liberal, says British actor Rupert Everett. In fact, for gay actors like himself, it's quite conservative.
The 50-year old actor, best known for his role in 'My Best Friend's Wedding,' spoke with the UK's BBC's Radio 4, sounding a familiar lament about his role in the film industry, and the discrimination he faces.
Comparing his acting talent to that of Colin Firth and Hugh Grant, Everett said that producers would say they couldn't find a role that fit him, which he said came only because he was gay.
"I never got a job there, and I never got a job here, after [coming out]," he said. "I did a couple of films, I was very lucky at the beginning of my career... and then, I never had another job here for ten years, probably, and I moved to Europe."
It's not just him though; he thinks it's a problem for all gay -- and women -- actors.
"I think show business is ideally suited for heterosexuals, it's a very heterosexual business, it's run mostly by heterosexual men, and there's a kind of pecking order. I think the position of women is a pretty difficult one in show business. If you look at the idea of a drunk women in show business on the skids at the age of 50, and a drunken man in show business on the skids, the drunken man gets an awful amount of support, and the women is a slut."
The system is especially biased, he thinks, because the audience doesn't see actors as gay or straight.
"The audience has a completely perception of the performers than the business... But the business is what makes the stars, really. There are lots of women and lots of men in the business that the powers that be decide are the right people and they'll stand with them for quite a long time."
Still, Hollywood decides on its own who to support, even if its undeserved, Everett says. And to prove his point, he criticized the career of Jennifer Aniston:
"Like Jennifer Aniston will just have one too many total flops. But she's still a member of that club. And she will still manage to -- like a star forming in the universe -- a whole lot of things swirling around and suddenly solidifying into yet another vital tasteless romcom: a little glitter next to the Crab Nebula."
His advice for gay actors? As he's said before, perhaps not coming out is the best bet:
"There are many of them, and I don't blame them, it's very sensible. If I hadn't been someone who liked and if I hadn't been a kind of sex maniac and all those kind of things and wanted to go to raves and circuit parties, I don't think there's anything to wrong with it. It would have been too complicated for me to tell the lie."
Calling all HuffPost superfans!
Sign up for membership to become a founding member and help shape HuffPost's next chapter