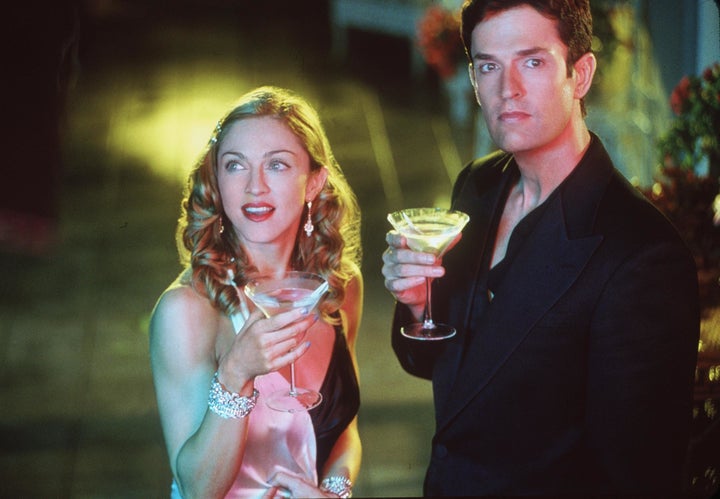 The 1997 smash "My Best Friend's Wedding" helped put Rupert Everett on the Hollywood map. As Julia Roberts's gay best friend, he stole nearly every scene in the romantic comedy, which recently celebrated its 20th anniversary.
The success of "My Best Friend's Wedding" helped make gay best friends somewhat of a comedy trope, with similar characters popping up in movies like "Mean Girls" and "The Devil Wears Prada." But when Everett attempted to repeat his success in 2000′s "The Next Best Thing," the film received scathing reviews and bombed at the box office.
Everett, now 58, said the failure of "The Next Best Thing," in which he starred opposite Madonna, can be at least partially attributed to the film's creative team hoping to use his sexuality to their advantage. 
"The studio who made it were completely into maximizing what they thought they could get out of me as a gay person," Everett told The Guardian. "There had been posters on Sunset Boulevard; 20 million gay people in America, and they wanted to get to them. We had a huge weekend in Miami, and they asked all these little gay magazines with poppers ads in the back to try to reach out to this elusive 20 million audience, which would have made me, by the way, if I'd managed it, into a huge star."
After "The Next Best Thing" flopped, Everett said he struggled to land big screen roles. "Career death is rather like real death, so it gives you an opportunity to see what real death feels like," he said. "One minute, you're careering round the corridors of power, and everybody's going: 'That's a fabulous idea.' The next minute, you're still careering around but you're like the Canterville Ghost: everybody's walking right through you and you've died, and you didn't realize." 
Now starring in the BBC comedy series, "Quacks," Everett also looked back on his early years working as an actor in London, when he was "living in basic terror" because of the HIV/AIDS crisis. 
"I'd had a very promiscuous sex life from the moment I arrived in London. I'd thrown myself into the gay world, coming from this convent background, and then AIDS began and there was no way of finding out if you carried the virus until 1985, the HIV test," he recalled. "Everybody was terrorized by the disease. Even people who loved you, your family, you'd notice them taking your plate and washing it separately." 
REAL LIFE. REAL NEWS. REAL VOICES.
Help us tell more of the stories that matter from voices that too often remain unheard.
BEFORE YOU GO