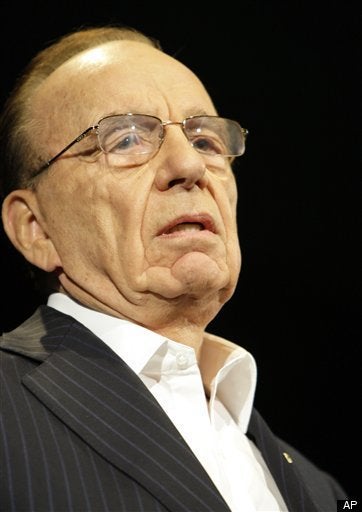 News Corp. chairman Rupert Murdoch was in Washington, DC this morning, appearing at the Federal Trade Commission's "How Will Journalism Survive The Internet Age" conference, where he brought a strong message for members of Congress: Don't even think about bailing out journalism with taxpayer money! And then, Murdoch delivered a whole bunch of other, decidedly mixed messages to those lawmakers!
Obviously, to anyone in journalism who doesn't want the White House Press Office to be their personal assignment editors, standing up to a massive government intervention in journalism has some merit. But while Murdoch paid lip service to "Constitutional sensitivities," he was more emphatic in his dislike of extant "bailout" models, most notably those that have propped up the auto industry for the sake of -- in Murdoch's words -- propping up "products that consumers do not want."
Of course, the irony here is that Murdoch would like the government to pave the way for News Corp. to become the first-ever too-big-to-fail media conglomerate by doing away with the current FCC regulations that impede cross-ownership. Murdoch insisted that these regulations block innovation, and that deregulation in this arena would actually pave the way for new competition for "people like me." Competition that would spring up by magic, I guess!
Of course, it's not like Murdoch has no use for the heavy hand of government intervention! If lawmakers could just see their way to radically change copyright law, and gut the current interpretation of "fair use"... well, that would be swell! That would allow Murdoch to win his battle with "aggregators" who "think they have a right to take our news content and use it for their own purposes without contributing a penny to its production... The wholesale misappropriation of our stories is not fair use," Murdoch told the conference attendees, "To be impolite, it is theft."
Despite the carping at fair use and the contradictory marching orders for lawmakers, Murdoch is nevertheless bullish about the future of journalism. His vision for News Corp. is that of an organization committed to expanding with frictionless flexibility into newer and more innovative platforms that fit the "lifestyles" of as many users as possible. "Consumers," Murdoch said, "do not want to be chained to a box in their homes." Murdoch extolled the virtues of enabling users to read content on the move, and while he emphatically denied any interest in getting into "the hardware business," he signaled that he'd be aggressively expanding into the burgeoning e-reader market.
He also indicated that he'd make good on his threat to get behind pay walls: "Your business model, based on advertising, is dead." He then went on to restate his intention to eventually extend the Wall Street Journal's pay model to all News Corp. properties.
[Would you like to follow me on Twitter? Because why not? Also, please send tips to tv@huffingtonpost.com -- learn more about our media monitoring project here.]
Related
Popular in the Community