Rupert Murdoch told the Leveson inquiry on Thursday that there had been a "cover-up" at the News of the World, but claimed that he was a victim rather than an accomplice in the scheme. He also said that the phone hacking scandal will be a "blot on my reputation" for the rest of his life.
The second day of Murdoch's testimony before the media ethics panel found the mogul facing far sharper questioning than he did on Wednesday. Murdoch did not back down from his insistence that he had known nothing about the extent of phone hacking at his newspapers. (Indeed, he said that he had essentially ignored the News of the World for over 30 years.) But he said that he had "failed" by being such a remote chief executive.
In Murdoch's telling, the wool had been pulled over his eyes by a handful of people at the News of the World.
"I think the senior executives were all misinformed and shielded from anything that was going on there," he said, adding that he blamed "one or two" unnamed people for that. "There's no question in my mind that, maybe even the editor, but certainly beyond that, someone took charge of a cover-up, and we were all victims of that."
He claimed that those "strong characters," who appeared to be former News International legal adviser Tom Crone and News of the World editor Colin Myler, had prevented reporters from speaking to either James Murdoch or Rebekah Brooks.
After the hearing, Crone released a statement, saying that Murdoch was guilty of a "shameful lie" against him and Myler.
"The fact that Mr Murdoch's attack on Colin Myler and myself may have been personal as well as being wholly wrong greatly demeans him," he said.
Murdoch also portrayed the News of the World as the black sheep of his newspaper family, unloved and ignored by him. He called it an "aberration" and said he should have shut it down years earlier than he did. Asked why he closed it last July, Murdoch said, "I panicked. But I'm glad I did it."
However, Murdoch also displayed an apparently deep lack of knowledge of how the scandal had proceeded. When Robert Jay, the chief interrogator at the inquiry, stated that News International had obstructed the initial phone hacking investigation, Murdoch objected, saying that his company had done no such thing.
"The evidence we've had conclusively demonstrates" the opposite, Jay said. "Does that not shock you?"
"That shocks me deeply," Murdoch said. "I was not unaware of it and hadn't heard it until you just said it."
Later, he said that he should have gone in himself and questioned Clive Goodman, the first editor implicated in the hacking scandal.
Lord Brian Leveson, the judge leading the inquiry, asked how Murdoch could not have be more interested in phone hacking, given that he was so personally close to his print titles.
"I have to admit that some newspapers are closer to my heart than others, but I also have to say that I failed," Murdoch said. After a long pause, he added, "and I am sorry about that."
There were several sharper moments as well, though. In one particularly spiky exchange, Jay took Murdoch's own usage of the word "cover-up" a bit too far for the News Corp. chief.
After Murdoch said he had done "nothing" to involve himself personally in dealing with phone hacking, since he trusted his deputies, Jay said, "Some might say this is consistent with the desire to cover up."
"Maybe people with minds like yours," Murdoch snapped back. After a concerned noise from Leveson, Murdoch quickly said, "I take that back,"
"I have a very thick skin," Jay replied.
The inquiry also briefly addressed the News Corp.-related scandal currently plaguing the British government. Minister Jeremy Hunt has been accused of an improper level of closeness and communication with the company while he was acting in a "quasi-judicial role" and weighing Murdoch's attempt to take over all of satellite broadcaster BSkyB.
Asked if he had ever spoken to Hunt about the bid, Murdoch said he had not. He claimed not to remember ever meeting him. (Journalists were quick to point out that Hunt has disclosed a 2010 dinner with Murdoch and others.)
Murdoch's first day was dominated by a detailed discussion of his relationships with three decades of politicians and the powerful. The News Corp. chief insisted that he was not the political kingmaker he thought he was, and denied that he had ever used his papers to further his commercial or political interests.
Related
Before You Go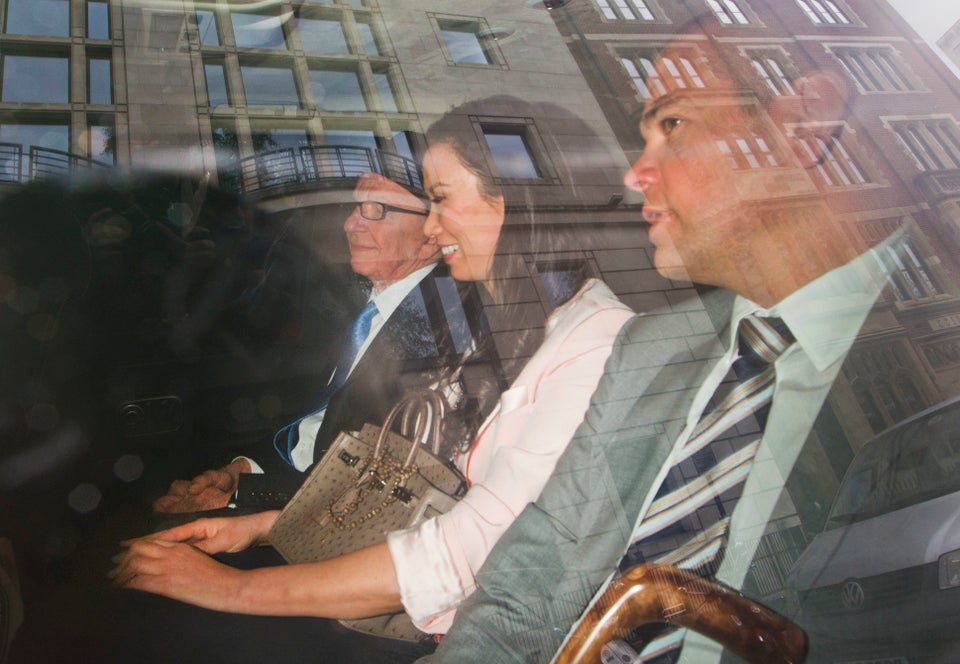 The Murdochs
Popular in the Community