Rupert Murdoch parried question after question about the extent of his political influence during a lengthy hearing on Wednesday, saying that the popular image of him as a power broker and ruthless backroom dealer is a "myth."
The session, at the Leveson Inquiry into the ethics of the British press, was the first of two for Murdoch. He was quizzed on his dealings with politicians going back over 30 years. The News Corp. CEO was calm and sharp throughout — a far cry from the fuzziness he showed when hauled before Parliament over phone hacking last July.
Two very different stories emerged at the inquiry. Interrogator Robert Jay painted a portrait of a man with intimate connections to every key political player of the day, and asked flatly whether or not Murdoch ever traded endorsements for political and commercial favors. Murdoch, by contrast, said he was not on familiar terms with most politicians, and that his commercial interests played no role whatsoever in his political decisions.
Time and again, Jay read out extracts from diaries or minutes from meetings in which it was claimed that Murdoch talked openly about his horse-trading with the government of the day. Time and again, Murdoch said that such recollections were faulty. Jay pronounced himself skeptical that there was no connection between his backing of political parties and their policy shifts in his favor. Murdoch repeated that this was the case.
"I take particularly strong pride in the fact that we've never pushed our commercial interests in our newspapers," he said at one point.
He did, however, say that the backdoor of 10 Downing Street served as a "shortcut" to his London apartments. He did not mean this as a metaphor.
Some of the choicer morsels to emerge from the hearing:
Murdoch said that he considered phone hacking and the use of private detectives to be examples of "lazy" reporting. But he added that he firmly believed that the lives of celebrities and public figures were fair game in journalism.
He described himself as having "no commercial interests except the newspapers."
Murdoch claimed that former British Prime Minister Gordon Brown "declared war" on him in a private phone call after The Sun newspaper switched its allegiance from Brown's Labour party to the Conservatives in 2009. He said that Brown was "not of balanced mind" at the time.
Murdoch said that The Sun was the purest representation of himself anyone could find in the press: "if you want to judge my thinking, look at the Sun."
He denied making any deals with Tony Blair, who courted him assiduously in the run-up to his first victory in the 1997 elections. Murdoch said that he didn't remember the three phone calls he had with Blair in the weeks preceding the Iraq War in 2003, which all 175 of his newspapers around the world backed.
It is "a complete myth," he said, "that I used the influence of the Sun or supposed political power to gain favorable treatment."
Jay said that there seemed to be a lot of evidence on the other side. "Don't you agree that that's a recurring theme?"
"Well, in the Guardian," Murdoch said, calling them "lies" and saying "resentful" people grab on to them. "They just aren't true."
By the end of the hearing, Jay was signalling that he might want to leave a substantial portion of the questioning for the next day. According to the Guardian's Dan Sabbagh, though, Murdoch was not so keen for the delay.
"Let's get him to get this fucking thing over with today," Sabbagh overheard Murdoch tell his advisers. It was not to be, though, and the hearings are set to continue on Thursday morning.
Murdoch's session came a day after his son James appeared before the same body. At that hearing, newly revealed emails showed that the company was given sensitive and secret government information about the progress of its bid to take over all of broadcaster BSkyB.
On Wednesday, Prime Minister David Cameron said that Jeremy Hunt, the minister at the center of the scandal, had his full support, and Hunt defiantly said he had done nothing wrong.
In his hearing, Murdoch said that he had never once lobbied Cameron directly about BSkyB.
Below, see a blow-by-blow account of the first day of the Murdoch hearings.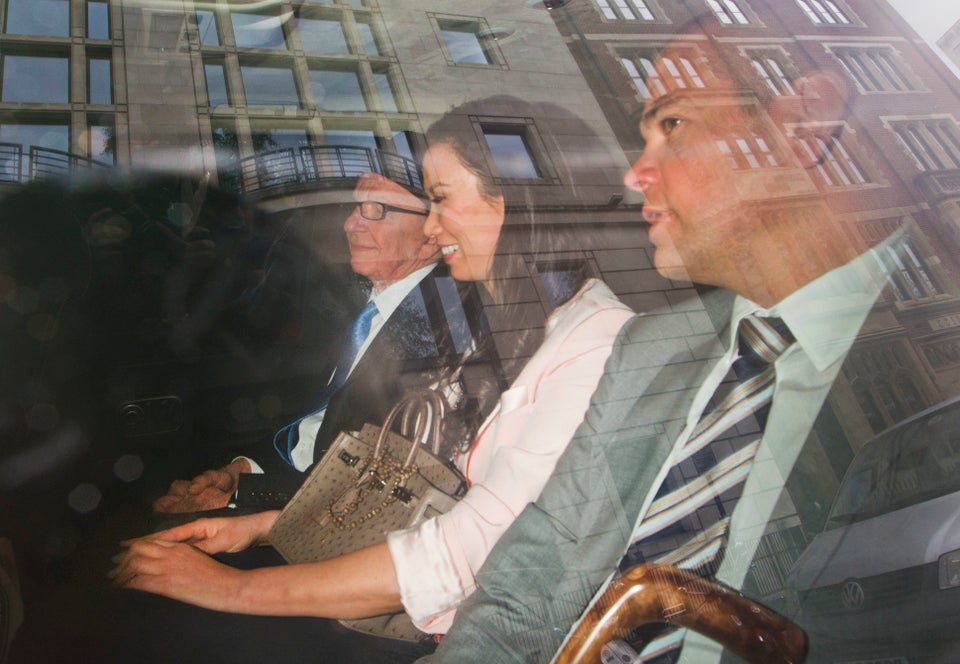 The Murdochs
Popular in the Community