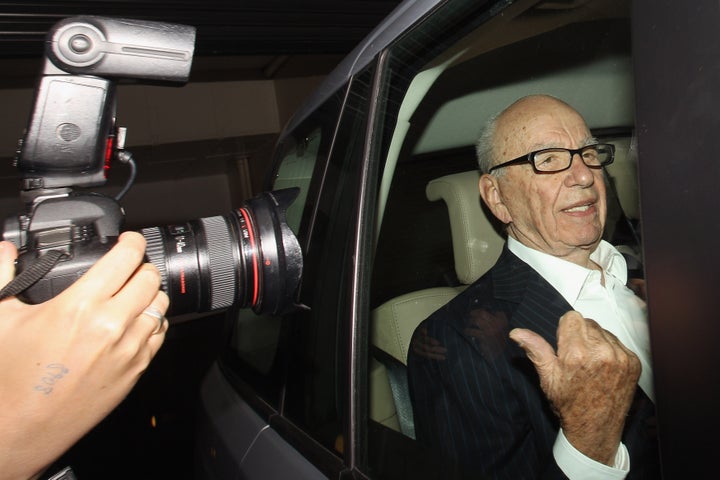 Rupert Murdoch has finally met with—and apologized to—the family of Milly Dowler, the abducted and murdered girl who turned the hacking scandal at his British company into a full-blown national crisis, multiple outlets reported on Friday.
The BBC showed footage of Murdoch walking into a Central London hotel to meet with Dowler's family. When the meeting ended, Murdoch emerged. One of a mass of reporters asked if he had apologized to the Dowlers. "Of course I did," he said.
The Dowlers and their lawyer, Mark Lewis, then spoke to reporters. In a statement, Lewis said that Murdoch was "very humbled, very shaken and very sincere. I think this was something that had hit him on a personal level. He apologized many times—I don't think somebody could have held his head in his hands as many times and said they were sorry."
WATCH:
The meeting comes as Murdoch and his News Corp are suddenly moving aggressively to stanch the bleeding of the scandal. Just on Friday, News International chief Rebekah Brooks resigned, and the company revealed that it is taking out full-page ads in newspapers apologizing for its actions.
Dowler was abducted and murdered in 2002. But it was not until just last week when reporters at The Guardian revealed that, while she was still missing, investigators from the News of the World hacked into her voicemail and deleted some of her messages. This caused her parents to think she was still alive and accessing her messages.
The news sent the long-simmering hacking scandal into overdrive, as the public and politicians reacted with revulsion and suddenly focused on what exactly had been going on at News International, Murdoch's British newspaper division. Since then, the scandal has spiraled completely out of control. The Dowler family has also met with nearly every top politician in the country, from Prime Minister David Cameron on down, in the wake of the Guardian's report.
Calling all HuffPost superfans!
Sign up for membership to become a founding member and help shape HuffPost's next chapter