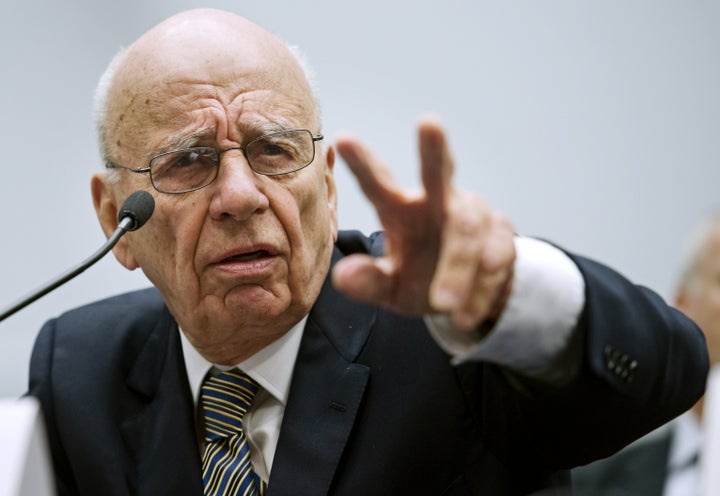 UPDATE: The FT reported Thursday that culture secretary Jeremy Hunt is "expected to delay" his verdict on the BSkyB merger until September. Submissions leading up to tomorrow's deadline have risen from 60,000 to over 100,000.
NEW YORK -- Rupert Murdoch has long thrived in opposition, still playing the scrappy outsider who just so happens to run a vast media empire.
For over half a century, Murdoch's thwarted a long list of regulators, media consolidation critics and journalism ethics scolds. He dropped $5 billion on Wall Street Journal-parent Dow Jones in 2007 despite protests that he'd ignore his promises of editorial independence -- similar to those he made before purchasing The Times and Sunday Times -- once he closed the deal. And, of course, he did.
Now, Murdoch's swashbuckling legacy is being put to a career-defining test, as the 80-year-old News Corp. chairman attempts to take over UK broadcaster BSkyB amid skyrocketing public outrage and increased political pressure surrounding the News of the World phone hacking scandal. BBC business editor Robert Person reported Wednesday that News Corp "will almost certainly have to delay their takeover of BSkyB -- at least until it is apparent that the News of the World and News International have been cleaned up."
But could slowing down the machinery of the deal lead to its eventual derailment?
That's not yet clear. However, several long-time Murdoch watchers say the scandal has both tarnished News Corp's reputation and, for now, helped create a dark cloud over the deal going forward.
"The nature of these scandals is that you get to a point where ultimately everybody is touched by it, and everybody's credibility is undermined, and so there's no going back," said Michael Wolff, editorial director of Adweek and author of a probing Murdoch biography. "You can't repair that."
Wolff acknowledged that the NotW scandal already included celebrities and politicians, but until this week, "what you still didn't have is that one thing that touched the chord of massive public outrage."
"That chord," Wolff said, "was touched yesterday."
Since Monday, the Guardian and other news outlets have published damaging reports about tabloid journalists intercepting phone messages sent to a murdered teenage girl and terrorist victims, along with allegations that former NotW editor (and ex-Cameron spin doctor) Andy Coulson sanctioned payments to police for stories. Rebekah Brooks, the NotW editor at the time of 13-year-old Milly Dowler's murder and now a top Murdoch hand running News International, faces increasing pressure to resign.
Murdoch, however, isn't throwing Brooks overboard -- at least not yet.
On Wednesday, Murdoch said that "recent allegations of phone hacking and making payments to police with respect to the News of the World are deplorable and unacceptable," yet signaled that the paper's former editor will keep her job.
"I have made clear that our company must fully and proactively co-operate with the police in all investigations and that is exactly what News International has been doing and will continue to do under Rebekah Brooks' leadership," Murdoch said. "We are committed to addressing these issues fully and have taken a number of important steps to prevent them from happening again."
So while the investigation into one News Corp. entity continues, Murdoch appears prepared to go forward with upping his minority interest into another and completing the takeover. Legally, it's likely that Murdoch will be able to do that. Whether the move will be politically tenable is another story.
Charlie Beckett, who directs POLIS, a journalism initiative by the London School of Economics and Political Science and the London School of Communication, said that if the BSkyB deal collapses it wouldn't be "for any sensible legal reason," but because "politicians decided" it should.
"If they now unpick this, then Murdoch's lawyers are going to go to town," Beckett said. "It's going to cost the government billions, and also it's just unfair. You can't have laws and rules and regulations where you go through the whole process, and then you say because of one scandal we are now introducing this concept that you have to be a 'fit and proper' person."
The political fight over who should be held accountable in the phone hacking scandal played out Wednesday in the House of Commons.
Prime Minister David Cameron said Wednesday that there needs to be a public inquiry -- or inquiries -- into British journalism, but opposed Labour Leader Ed Miliband's calls to bring the BSkyB issue to the Competition Commission, according to the Guardian.
"On the issue of BSkyB, what we have done here is followed absolutely to the letter, the correct legal processes," Cameron said. "That is what the government has to do."
Cameron added that UK communications regulator OfCom will still weigh in on the matter and "make a recommendation about fit and proper person."
Stewart Purvis, a professor of journalism at City University London and former OfCom regulator, said the latest allegations raise serious ethical questions but the law appears to be on News Corp.'s side. He noted that it is too late in the takeover process to hold up the deal over questions of media consolidation, given that Ofcom and the European Commission already dealt with such questions. "[A]t the end of the day the takeover tests are being passed on all sorts of other issues," Purvis added. "And in law, that's all that really matters."
Purvis pointed out that Ofcom could still raise the "fit and proper" question even after the deal was approved. It's that uncertainty, he said, which could explain jittery trading. (BSkyB shares closed 2.1 percent lower at the end of trading in London Wednesday, and shares of NewsCorp. on Wall Street had fallen more than 3 percent by midday trading).
"I don't think anybody believes that suddenly before the deal goes through, there's going to be another problem," Purvis said. "They wonder whether there are problems further out that they don't yet know about. Every day that the News Corp. problem gets bigger, that just creates more uncertainty in the market."
As Murdoch continues in his quest to own BSkyB, shareholders may grow increasingly concerned over public perception that the investigation isn't leading to accountability.
Steven Barnett, a professor of communications at the University of Westminster who's been petitioning the government over Murdoch's BSkyB acquisition for more than a year, said "rightly or wrongly, there is a growing sense that a fish rots from the head, and therefore behavior of this kind of unforgivable cruelty could not happen unless it was at least implicitly sanctioned from the very top."
Barnett acknowledged that "no one is suggesting that Rupert was signing checks for private detectives," but said the fact that phone hacking was considered acceptable "required a measure of implicit, if not approval, then acceptance."
"For many people it is difficult to understand the distinction between behavior like that that is so utterly gross, and allowing even greater power to the same organization to run a major television station," he said.
Support HuffPost
The Stakes Have Never Been Higher
Related
Popular in the Community