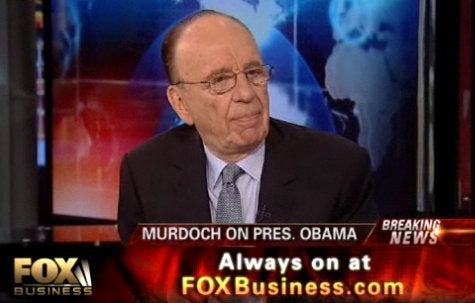 Rupert Murdoch told Fox Business Network's Neil Cavuto Monday morning that Barack Obama is not an extremist but that his policies "dangerous" for America. He also said that the Boston Globe will not disappear and that his recently installed #2, Chase Carey, is by no means his "heir apparent."
"I think Barack Obama would describe himself as a pragmatic leftist but he's not an extremist," Murdoch said. "I think he sees himself as a president for change and that involves bigger government. He's made no secret of that. I think that's dangerous."
Murdoch also voiced belief in the Boston Globe, whose union is voting today on pay cuts necessary to keep the paper alive.
"You know, Boston is a very highly unionized place and they may find that difficult but it's a great newspaper and a great institution, the Boston Globe, and I can't see it disappearing," he said. "Like all newspapers, I think it will change. We think of newspapers in the old-fashioned way, printed on crushed wood so to speak, with ink. It's going to be digital. Within 10 years I believe nearly all newspapers will be delivered to you digitally either on your PC or on a development of the Kindle, shall we say...something that's quite mobile and you can take around with you."
When asked whether DirecTV head Chase Carey, returning to News Corp to serve as the company's #2 executive, was his "heir apparent," Murdoch responded, "No, we're not making any commitments on that at all. Chase is coming in to be my partner and right-hand. He was with us for 17 years before, I think. It's like coming home."
Murdoch also dismissed Italian Prime Minister Silvio Berlusconi's claim that he was using his media empire to trash Berlusconi as retaliation for higher satellite TV taxes in Italy.
"It's nonsense," Murdoch said. "There was a lot of comment a few months ago when he lowered taxes everywhere in Italy, all business taxes, except on satellite television which he doubled. And he does own the competition, and that tax did not apply when he owned [the competition]. That was business. Now we've not retaliated or said anything about that at all. I don't control what the editor of The Times of London says or The Economist says attacking him. The New York Times, God knows I have no influence there."
Watch Part I (discussion of News Corp & Chase Carey):
Watch Part II (discussion of Boston Globe, newspapers, Silvio Berlusconi):
Watch Part III (discussion of Obama administration):
Calling all HuffPost superfans!
Sign up for membership to become a founding member and help shape HuffPost's next chapter