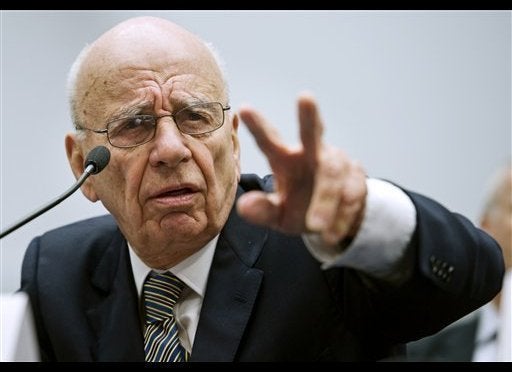 Rupert Murdoch was summoned by the British Parliament committee investigating his hacking scandal to give evidence next Tuesday, but it is not yet clear whether he will turn up. The summons came on a day when Murdoch's bid to take over satellite company BSkyB looked to be in more serious peril than ever, with members on all sides of the House of Commons calling for it to be scrapped.
Louise Mensch, a Conservative member of Parliament, announced on Twitter that Murdoch, his son James and News International chief Rebekah Brooks have all been summoned to appear before the Select Committee of the Department of Media, Culture and Sport (the government cabinet department responsible for the press.)
On Tuesday afternoon, the head of the committee, John Whittingdale, initially announced that Rupert and James Murdoch and Brooks will indeed appear before Parliament next Tuesday. Later, he rowed that statement back, saying he was not sure who will appear and that he can only force Brooks to come, since both Murdochs are actually American citizens.
James Murdoch has already apologized for issuing misleading statements to Parliament in previous testimony. The Select Committee has also been a frequent critic of News International's conduct during the five-year hacking scandal.
The summons is just the latest in a string of bad news for Rupert Murdoch. On Tuesday, former Prime Minister Gordon Brown issued an extraordinary attack on News International for hacking, "blagging" and conning its way into obtaining his legal and financial records, as well as for allegedly uncovering the news of his son's cystic fibrosis through illegal means.
UPDATE: News International released a statement on Tuesday afternoon strongly denying Brown's charges about their story on his son's illness.
"We are able to assure the Brown family that we did not access the medical records of their son, nor did we commission anyone to do so," the statement read in part. "The story The Sun ran about their son originated from a member of the public whose family has also experienced cystic fibrosis. He came to The Sun with this information voluntarily because he wanted to highlight the cause of those afflicted by the disease. The individual has provided a written affidavit this afternoon to a lawyer confirming this."
In addition, senior British police officers told the New York Times that the News of the World had both hacked into their phones and obliquely threatened to reveal damaging personal information if they continued an investigation into the paper's practices.
Watch a video about the latest news in the scandal:
And the Evening Standard reported that members of Queen Elizabeth's personal security detail sold information about her personal contact details, as well as private information about herself, her family and her aides to the News of the World.
Perhaps even more worrying for Murdoch is the derailment of his $12 billion bid to fully take over BSkyB, the lucrative satellite broadcaster. On Tuesday, Downing Street signaled that it would support an opposition Labour Party motion calling on News Corp to drop its bid altogether. (The bid had already been delayed.) The motion is not binding, but the coalition government's reported support marks a stunning change of fortune for Murdoch, given that the very same government vigorously supported the takeover just a few weeks ago.
Murdoch's company, News Corp, saw its stock plummet, and on Tuesday morning, it announced that it is buying back $5 billion worth of its own stock. The move comes as shareholders and analysts are questioning Murdoch's handling of the crisis.
For a complete timeline of the scandal leading back to 2006, click here.
Calling all HuffPost superfans!
Sign up for membership to become a founding member and help shape HuffPost's next chapter