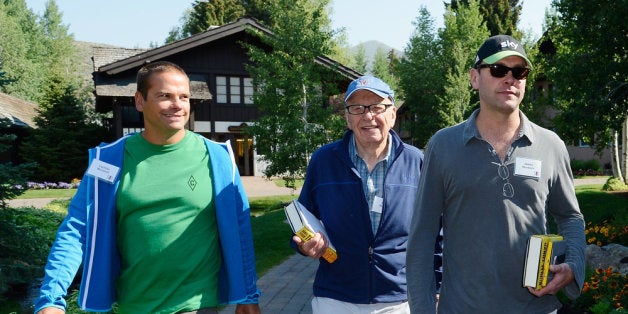 Rupert Murdoch's promotion of his two sons to the top of his corporate empire set the media world buzzing on Wednesday and Thursday, as News Corp-ologists feverishly dissected the latest twist in a decades-long soap opera.
Murdoch announced early Wednesday that his oldest son Lachlan was returning to a prominent place in the business after many years in the wilderness. Lachlan was named nonexecutive co-chairman of both Murdoch businesses, News Corporation and 21st Century Fox. For good measure, Murdoch also named his son James—seen as toxic for many years thanks to his entanglement in the phone hacking scandal—as a co-chief operating officer with 21st Century Fox.
The moves prompted an outpouring of speculation. There are perhaps no media companies in America that intertwine tortured family dynamics with business in the same way that Murdoch's do, which makes them that much more intriguing to cover.
The questions came hard and fast. Did this mean that Lachlan (or even James) was being designated as Rupert's chosen successor? What about the non-Murdoch right-hand-men like Chase Carey, the other co-COO at 21st Century, or Robert Thomson, who runs the newspaper empire over at News Corp? And what about Rupert's daughter, Elisabeth?
For good measure, did this mean that the Murdochs think the worst of the phone hacking scandal is behind them?
The headlines in many of the media reports were more redolent of a Gilded Age drama than a 21st century company:
The moves also allowed the best kind of sources—the "Murdoch family friends"—to speculate about what was going on.
"It sounds like a stupid structure, but it is what it is," "one person close to the family" told the Financial Times.
Someone "close to the Murdochs" told the New York Times that Rupert had been "'chipping away' at Lachlan for years at family gatherings and investor conferences."
It was all evidence that, no matter what ups and downs the Murdochs go through, they are never less than fascinating.
Calling all HuffPost superfans!
Sign up for membership to become a founding member and help shape HuffPost's next chapter