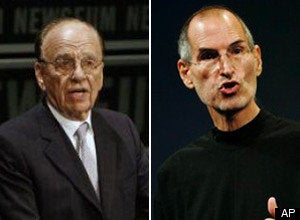 Rupert Murdoch and Steve Jobs will introduce Murdoch's new iPad-only newspaper, The Daily, at a special event in San Francisco sometime in the next few weeks, Yahoo News reports.
According to Yahoo's Cutline blog, the two moguls will host a joint event at the San Francisco Museum Of Modern Art to unveil The Daily. The blog reports that the event is slated for Jan. 19, but that the date could be changed.
Murdoch has devoted considerable resources to the product, hiring high-profile editors and reporters and reportedly committing $30 million to the paper's first year. For Jobs, the success of The Daily could cement the iPad as a serious player in the media world.
Related
Popular in the Community