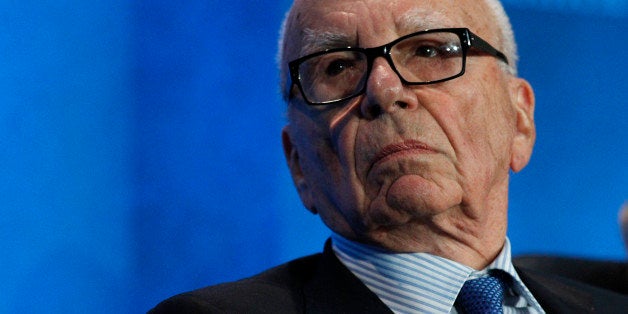 Rupert Murdoch has made an ambitious play to buy media giant Time Warner, setting in motion a potentially massive merger.
21st Century Fox eventually confirmed that it had made an offer, but said it was not currently in discussions with Time Warner.
Time Warner then issued a statement of its own, explaining why it had rejected the deal. It said there were "considerable strategic, operational, and regulatory risks to executing a combination with 21st Century Fox."
The company's CEO, Jeffrey Bewkes, also posted a video discussing his rejection of the offer:
A source told CNN, which is owned by Time Warner, that the company was "prepared to fight" any attempted takeover by Murdoch.
All that could easily change, though. Murdoch is used to such rejection and may have even expected it. After all, others, such as the former owners of the Wall Street Journal, have also pushed away his initial takeover offers. Murdoch now owns the Journal.
As Wednesday morning went on, it was clear that Murdoch was not done trying. Bloomberg News reported that he is willing to go above the $85-a-share price that Time Warner batted away.
One Time Warner shareholder told Businessweek that it was "going to get tough to say no" to Murdoch if he kept increasing his offer.
Shares in Time Warner spiked after the news broke: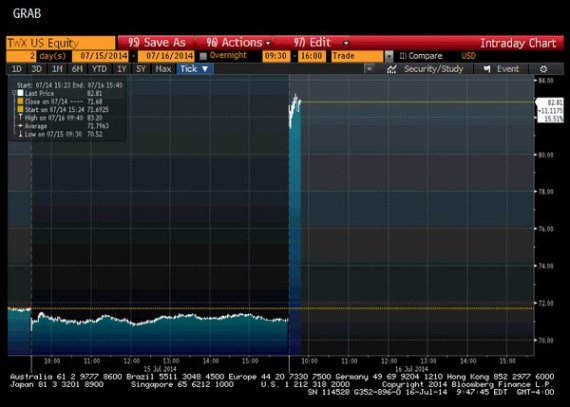 Murdoch's interest in Time Warner has been rumored for some weeks now. A merger of any Murdoch company with Time Warner would create a super-sized property, with major stakes in the news, sports and entertainment fields.
Murdoch's own Wall Street Journal reported that, other than CNN—which he offered to sell off to avoid regulatory backlash—Murdoch wanted to buy all of Time Warner.
The effort to purchase one of his biggest competitors could signal that Murdoch feels that much of the pressure surrounding his business in the wake of the phone hacking scandal has abated. The reported bid has all the audacity and swagger of a classic Murdoch caper. It is not the kind of move made by a company that feels it shouldn't do anything too flashy. He might also want to make sure that the story of his business legacy ends with one more blockbuster deal, rather than a costly scandal.
Moreover, Murdoch's zeal for deals may not be sated by his desire for Time Warner. He's also rumored to be interested in buying the Tribune newspapers, which are being spun off from their parent company. The two deals would mean that Murdoch had beefed up both sides of his empire — the 21st Century Fox entertainment wing, and the news and publishing giant News Corp.
Popular in the Community