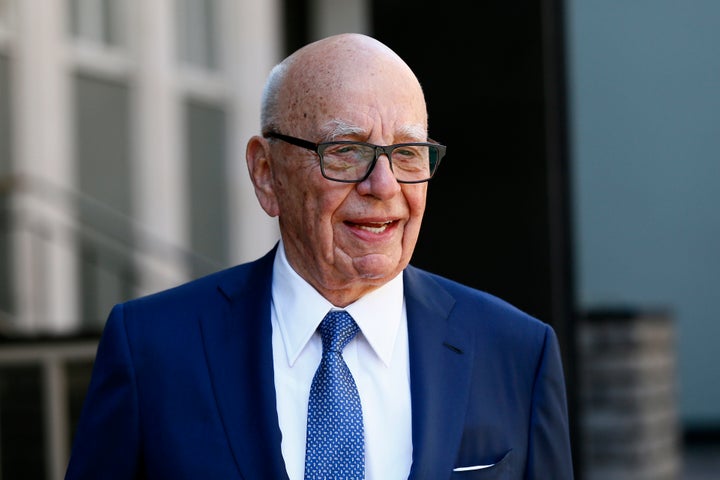 NEW YORK -- The Wall Street Journal editorial board slammed "conservative media" in Monday's paper for acting as apologists for real estate developer and Republican presidential candidate Donald Trump.
"[T]oday many on the right seem willing to indulge any populist outburst no matter how divorced from reality or insulting to most Americans," Journal editors wrote. "If Donald Trump becomes the voice of conservatives, conservatism will implode along with him."
The Journal's blistering editorial echoed the views of owner Rupert Murdoch and suggested a split within the conservative mogul's media empire.
Murdoch's Fox News gave Trump more airtime last month of any Republican candidate, and some of the network's hosts have been more willing to defend, or at least explain, Trump's controversial comments than many in the media. On Monday's "Fox & Friends," the show's co-hosts repeatedly said that Trump had immediately "corrected" himself after remarking Saturday that Sen. John McCain (R-Ariz.) was not a war hero, and yet the "mainstream media" was ignoring those clarifications.
Republican candidates piled on Trump's remark onstage in Iowa that McCain, who was tortured during five years of captivity in Vietnam, was not a war hero and only considered one because he was captured. 
Murdoch, who previously criticized Trump's caustic immigration comments, tweeted Saturday night, "When is Donald Trump going to stop embarrassing his friends, let alone the whole country?" 
 The next morning, Murdoch's New York Post depicted Trump adrift at sea, shark encircling, with the front-page headline, "Don Voyage."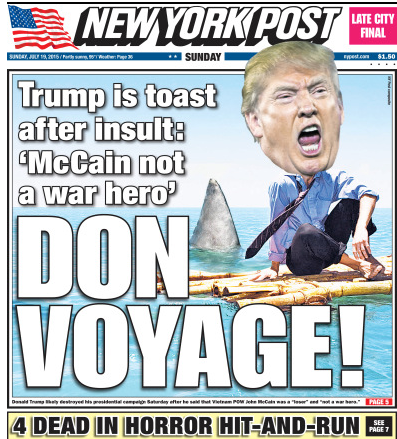 The Journal's Trump editorial, which was published online Sunday, noted that "all too many conservatives, including some magazine editors, have been willing to overlook his hucksterism as he's risen in the polls."
The paper didn't name names, though one prominent conservative magazine editor, The Weekly Standard's Bill Kristol, had spoken favorably about Trump until the McCain comment. Murdoch, incidentally, used to own The Weekly Standard.
Wall Street Journal editorial page editor Paul Gigot did not respond to a request for elaboration on which conservative media outlets and figures were to blame for promoting Trump. 
While Murdoch is known to influence his newspapers' editorials, he exerts less control over the editorial direction of Fox News, which has been run since its 1996 launch by former Republican operative and TV executive Roger Ailes.
Ailes lunched with Trump in late June, shortly after his presidential announcement, and reportedly shares some views with Trump. New York magazine's Gabriel Sherman, author of a 2014 biography of Ailes, said in a recent appearance on CNN that the Fox News chief is "largely in sync with Trump" on immigration. 
Sherman also said Murdoch's tweet earlier this month on Trump's immigration comments appeared to be a message to "his own news channel, Fox News, that you're giving Trump too much oxygen [and] this is bad for the Republican Party."
It's not only Fox News giving extensive airtime to Trump, who has been covered seemingly nonstop on MSNBC and CNN, along with the broadcast network Sunday shows.  
The national media has spent two days chewing over Trump's McCain comments, with the controversy at the top of Monday's "Fox & Friends," the program on Fox News seen as most clearly in line with Ailes' personal views. 
Co-host Steve Doocy said Monday that the "mainstream media" had reported Trump saying McCain was "not a war hero" -- as the New York Post, for one, blared Sunday -- even though Trump had "corrected" himself several times onstage Saturday in Iowa. Co-host Elisabeth Hasselbeck also said Trump had immediately "corrected" himself. 
Indeed, Trump acknowledged McCain was a "war hero" after initially saying he wasn't. However, Trump said McCain is a war hero because he was captured and added how he likes "people who weren't captured." Watch the "Fox & Friends" clip below, via liberal watchdog Media Matters: 
Speaking later with Geraldo Rivera, a Fox News senior correspondent and friend of Trump, Doocy again said the mainstream media wasn't acknowledging Trump "corrected" himself. Rivera said Trump needed to apologize or explain his remarks to POWs.
When "Special Report" anchor Bret Baier joined the show later on, Doocy reiterated that Trump had immediately corrected his remarks.
"The headlines were, 'Donald Trump says John McCain not a war hero,'" Doocy said. "But Bret, as we heard there, he said 'not a war hero,' but then he immediately corrected it and said, 'He is a war hero' four times."
"Yeah, but he also said, 'I like war heroes who were not captured,'" Baier responded. "That was a real problem. This is a problem. Let's not sugarcoat it. This is not a good moment for the Trump campaign. No matter how he keeps talking about it, it's still not a good moment."
Trump lashed out at the media Monday on the "Today" show for doing a "false number" on the story, telling co-host Matt Lauer that he called McCain a war hero four times at the Iowa event. 
He later took a shot at the Journal specifically, tweeting that the paper "is worth about 1/10 of what it was purchased for, is always hitting me politically." Trump will surely have more to say Monday night about the McCain controversy, and coverage of it, as he appears on Fox News' "The O'Reilly Factor."
Calling all HuffPost superfans!
Sign up for membership to become a founding member and help shape HuffPost's next chapter