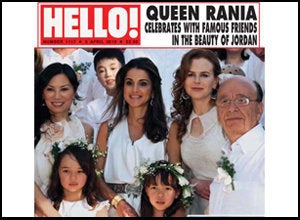 Rupert Murdoch and wife Wendi Deng Murdoch recently traveled to Jordan, where they hung out with the likes of Queen Rania, Nicole Kidman, and Hugh Jackman. What was the occasion? The baptism of their two daughters, Grace, 8, and Chloe, 6, at the spot widely believed to be the location where Jesus Christ himself was baptized.
Queen Rania hosted the Murdochs and their celebrity friends for a three-day tour of Jordan and the baptism, which took place beside the River Jordan.
Kidman and Jackman — who, like Murdoch, are among Australia's biggest celebrities — are the girls' godparents. Ivanka Trump was also in attendance.
"His Majesty King Abdullah & @QueenRania of Jordan set tremendous examples for the world to follow. They are truly visionary leaders," Ivanka tweeted while in Jordan.
Related
Popular in the Community