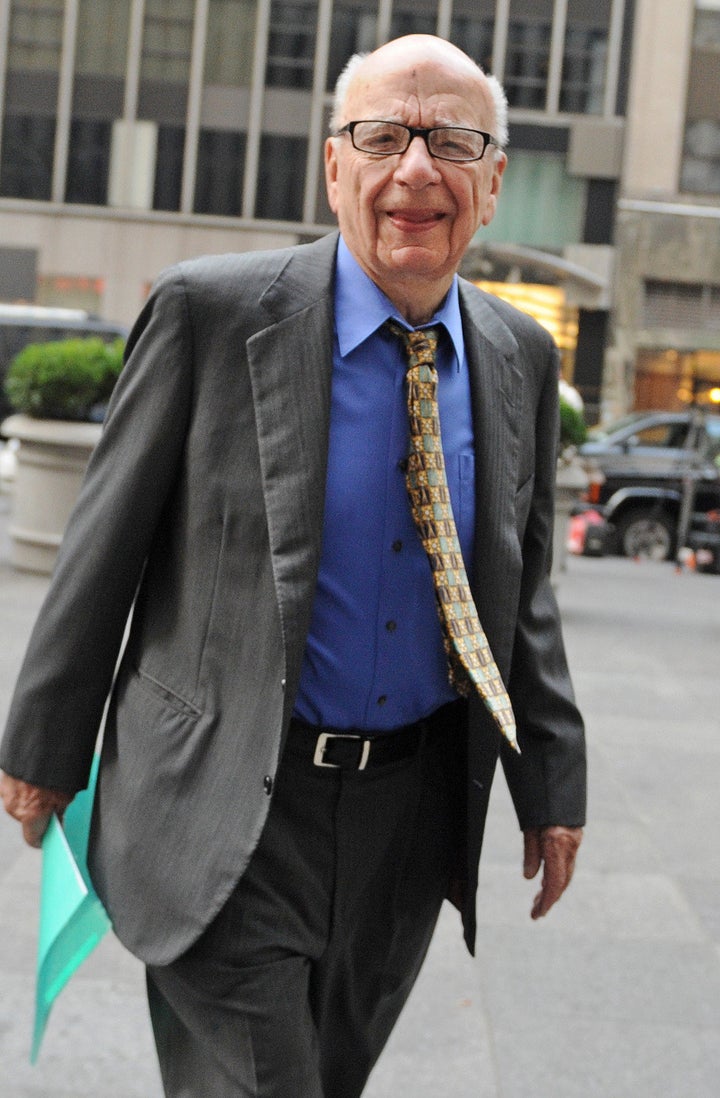 Are we still talking about this whole phone-hacking scandal at News Corp.? That's such old news.

Tapping into the voicemails of major political figures and murder victims? Everybody did it. Top executives at one of the world's largest media companies arrested? A few bad apples. A cover-up that reaches the highest levels of the British government and law enforcement? Trumped-up charges from jealous rivals. Pie throwing in Parliament? OK, that guy must be a terrorist. Good thing Wendi clocked him.

You want Congress to investigate what News Corp. might have done in the United States? Are you some kind of Marxist?

Let's get back to what really matters. Profits are up at News Corp. And, as Rupert Murdoch assured investors yesterday, "There can be no doubt about our commitment to ethics and integrity."

No Diggity, No Doubt
No doubt, indeed. Besides "fair and balanced," I can't think of two words that better describe Murdoch and News Corp. than "ethics and integrity."

Let's consider the best examples of Murdoch's commitment right here in the United States:
According to a New York Times investigation, News America Marketing, a News Corp. subsidiary that places ads in grocery stores, "has come under scrutiny for a pattern of conduct that includes below-cost pricing, paying customers not to do business with competitors and accusations of computer hacking." So far, says the Times, Murdoch has shelled out roughly $650 million to make legal problems at News America Marketing disappear. Name another company that places such a high price on maintaining its "integrity."
Government outreach is a hallmark of News Corp.'s efforts in Washington. And as Murdoch's media empire has grown, Congress has continually raised the limits on what one company can own. It used to be that one company could own local TV stations reaching up to 25 percent of the public; in 1996, thanks to News Corp. and friends, the limit got raised to 35 percent. So what happened when News Corp.'s holdings grew bigger than that? Congress set the cap at 39 percent -- exactly the level held by News Corp. at the time. What an ethical coincidence!
When they're not busy "helping" legislators understand those pesky media ownership rules, News Corp. is giving a hand to regulators. For instance, Murdoch lobbyists snuck a surprise into the 1996 Telecom Act that forces the Federal Communications Commission to review all its ownership rules every other year -- all so News Corp. could keep chipping away at them. Then there was the time a News Corp. lobbyist told then-FCC Chairman Reed Hundt he wouldn't "get a job as a dog catcher" if he took action against the company. Aren't puppies cute?
Murdoch's team also bent ownership rules at the FCC, securing waivers so that News Corp. could operate multiple TV stations alongside the New York Post and Wall Street Journal in the same market. Local citizens are challenging the license at one of those stations, New Jersey's WWOR, because the state's only major commercial broadcaster focuses almost exclusively on New York. In response, Fox's allegedly lied in filings to the FCC about news and staffing levels at the station. An honest mistake, I'm sure.
Speaking of which, a Murdoch-owned station in Minneapolis was recently fined by the FCC for airing fake news -- specifically a report on increased demand for convertibles that was actually a video shot and provided by General Motors. Fox tried to claim the FCC lacked the authority to interfere with the integrity of its newscasts, even if it was using them to dupe viewers. There's that word integrity again.
Fox News Channel. Need I say more?
Well, it's probably worth mentioning, in the spirit of ethics and integrity, that Fox News has sheltered would-be GOP presidential candidates by putting them on the payroll. As Frank Rich recently wrote, "The wholesale buying of elected officials is such a staple at Fox News we don't think twice about it anymore." And that's probably for the best.
Murdoch and News Corp. have also given millions to federal candidates -- which includes at least $750,000 from Murdoch personally. (Eighty percent of his personal funds have gone to Republicans.) And News Corp. last year gave a cool $1 million to the Republican Governors Association. I'm sure none of this partisan activity will be taken into account as Congress ponders an investigation.
It's almost ancient history, but back in 2007 when Murdoch was pushing his ultimately successful takeover of the Wall Street Journal, a group of the paper's China-based reporters wrote a letter to then-owner Dow Jones warning that Murdoch never would have printed their Pulitzer Prize-winning stories on the Falun Gong, lest he anger Chinese leadership and endanger future business deals. They warned of his record of "sacrificing journalistic integrity to satisfy personal and political aims." And we all know that sacrifice is a virtue right up there with ethics and integrity.
Oh, and this just in: Time reports that the man Murdoch appointed to oversee the internal probe of phone hacking, Viet Dinh, happens to be BFF with Preet Bharara, the U.S. attorney leading the federal investigation into Murdoch. In fact, Time says, "Bharara was best man at Dinh's wedding." So clearly he's the best man for this job, too.
Nothing to See Here. Move Along.
That last tidbit came out just yesterday. It practically oozes ethics and integrity. (Bonus points: Dinh was the mastermind behind the Patriot Act -- meaning the guy who opened the door to wireless wiretapping is in charge of investigating News Corp.'s phone hacking.) And I could probably list dozens of more examples. Feel free to name your favorites in the comments.

But like I said, there's really nothing to see here. It's time for Congress to go back and name post offices or whatever it is it does best. Let's just sweep this whole "scandal" under the rug and move along to some real news already.

Now, let's get on to the really important matters. What's the wacky Sarah Palin doing in Iowa? I wonder if she'll eat the fried butter? And didn't you hear there's a girl missing in Aruba? And what about that hip-hop-barbecuing Obama? Did we ever get a really close look at his birth certificate?

What's that you say? Someone might have hacked the phones of 9/11 victims' families? And you heard the FCC is about to review those media-ownership rules again?

Hey! Look over there ...
Calling all HuffPost superfans!
Sign up for membership to become a founding member and help shape HuffPost's next chapter