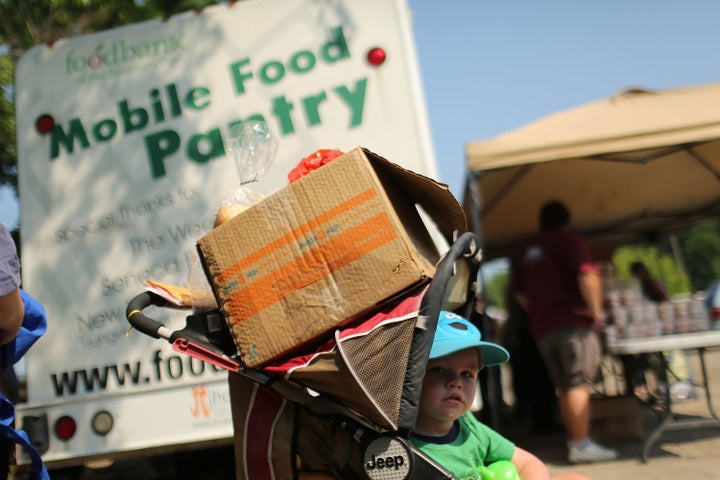 When it comes to hunger in America, there's both good and bad news.
The good news is that the percentage of Americans living in "food insecure" households — meaning their eating patterns are disrupted or their food intake is reduced — appears to be on the decline, according to anti-hunger advocacy group Feeding America's latest Map the Meal Gap report.
The report, released last week, estimates that 42 million Americans were food insecure in 2015, the latest year for which complete data are available. This represents 13 percent of U.S. households ― a significant decline from the 17 percent peak following the Great Recession in 2009.
The bad news is that those 42 million food-insecure Americans need more money to put food on the table than they did before. The amount of money their households need for food has grown 3 percent over the past year — and 13 percent since 2008, the report estimates.
While hunger is sometimes painted as a primarily urban problem, Feeding America's research shows that rural communities are overrepresented among the neighborhoods most dramatically affected by this funding gap.
Rural counties make up 63 percent of all U.S. counties, but they account for 67 percent of counties with higher-than-average food insecurity rates, according to the report. And of the nation's most food-insecure counties (the top 10 percent), 76 percent are rural.
Furthermore, a full 86 percent of the nation's most food-insecure counties for children are classified as rural.
Predominantly rural communities like Leflore County, Mississippi — which has a 33 percent food insecurity rate — are facing a perfect storm of issues that contribute to its challenges with hunger. Those problems include "concentrated poverty, poor housing and health conditions, higher school dropout rates, isolation and limited access to social services," Emily Engelhard, managing director of research and evaluation at Feeding America, told HuffPost.
"This is a population of people who are really being left behind," she added.
All of those challenges make it tougher for anti-hunger groups and food banks to attempt to fill the gap and connect people with their services.
The Idaho Foodbank works with some 230 partner organizations, including churches and local pantries and shelters, throughout the state. According to Karen Vauk, the group's president and CEO, those partners are more difficult to find in rural areas already dealing with reduced access to food and increasing food costs.
"It's harder to find those pantries in these rural communities," Vauk said. "Their population is sparse and spread out. And you're not going to find the large grocery stores in these communities."
Idaho Foodbank operates a mobile pantry to reach areas that might lack centrally located, brick-and-mortar distribution sites, bringing food to some 49 locations throughout the state on a monthly basis. The group's school pantry program also serves families in need at 36 participating schools, including many in rural settings.
These efforts help bring an often-invisible problem out of the shadows.
"In urban centers, usually cities, you see it through homelessness or the lines of people at food distribution sites," Vauk said. "In rural communities, we hear so many times that 'I never knew that that family was in need.'"
"This is a population of people who are really being left behind."
Though it's not yet clear whether those cuts could impact SNAP and similar programs, some of the Trump administration's most dramatic proposed spending cuts would affect the U.S. Department of Agriculture — which administers the program. USDA Secretary Sonny Perdue only made vague statements when questioned directly about how he will approach SNAP funding.
Vauk believes that any cuts to SNAP or other safety net initiatives would have a devastating effect on Americans' hunger rates, particularly in rural areas. Nonprofits like hers won't be able to fill the gap caused by such cuts, she added.
"We cannot scale to that level," Vauk said. "That would mean a frightening number of people in a pretty bad place."
Ironically, these rural areas were strongholds for Trump and the Republicans who now hold the reins of Congress during the 2016 elections.
Many urban areas also have enormous struggles with hunger and poverty. Anti-hunger advocates like Engelhard hope this could provide an opportunity for unlikely alliances in an otherwise fractured political environment.
"There's food insecurity in every county across the country," Engelhard said. "I think we have a tendency to say hunger is not in my backyard, that these aren't my constituents or not my neighbors, so it's not my responsibility. But this research suggests it's really all of our responsibilities."
Joseph Erbentraut covers promising innovations and challenges in the areas of food, water, agriculture and our climate. Follow Erbentraut on Twitter at @robojojo. Tips? Email joseph.erbentraut@huffingtonpost.com.
Before You Go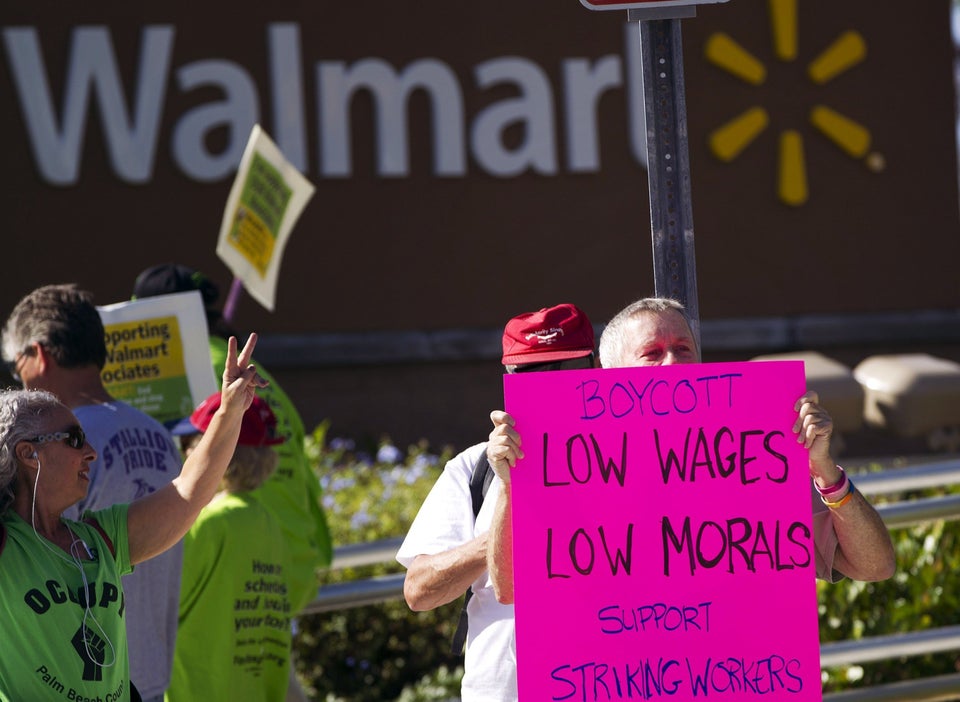 What Minimum Wage Haters Won't Admit
Popular in the Community