#EarthToParis : the "development vs. climate" dichotomy is false. We are connected, let's act connected.

Manuela Ima, one of the leaders of the Waorani Women's Association in Ecuador, has seen extraordinary changes in her life. She has seen gender roles evolve among indigenous communities in the Ecuadorian Amazon, her traditional customs be lost and revived, and the jungle around her retreat away from her home in unprecedented deforestation. When I asked her - what keeps you up at night? "You", she said in her broken Spanish.
Ima, like hundreds of indigenous and community leaders in Ecuador have worked over the last 15 years as guardians of their ecosystems- not just because they live there. "We conserve our ecosystem for you - we worry people in the cities don't realize they too depend on the rainforest." We are connected, let's act connected.
Leadership with a sense of connectedness -
Over the last 4 months I have had the eye-opening experience of visiting rural community entrepreneurs across Ecuador as part of launching GreenCrowds.org - the country's first crowdfunding platform. Focused on rural entrepreneurs, GreenCrowds features conservation-based entrepreneurship incubated by the UNDP Small Grants Program- an initiative born during the 1992 Rio Summit.
Time and again, from the humid Yasuni rainforest, to the artisanal salt pools of the Ecuadorian coast, community members surprised me with their overwhelming sense of connectedness.
Beyond having an empty sense of purpose, these rural leaders have more tangible impact than many environmentalists I know. They are willing to mold their livelihoods, take bold local action and innovate to stop climate change. "We conserve the páramo [Andean Highland Ecosystem] because it has a crucial role in our global balance" explained a 65-year old looming alpaca yarn by hand. In the eve of the Sustainable Innovation Forum, the Annual Conference of Parties in Paris this week I wonder whether outcomes would differ if world leaders had this same sense of connectedness and purpose.
Rural innovation and entrepreneurship as the missing link -
Rodrigo Gonzalez, representative of one of the 54 community projects supported by SGP explains the dichotomy:
"We all know that a healthy forest is good for us, that clean water is desirable, but no one has the right to tell another: 'don't cut down that tree' if no livelihood alternative is available."
Yet, Rodrigo and 53 of his colleagues have found ways to create these livelihoods through conservation. Their experience demonstrates that even low-tech innovations can yield excellent economic and environmental returns.
Such is the case of the Association of Agro-Ecological Campesinos of INTAG, in the north Ecuadorian Andes. This community of 98 families decided to pool their funds to offer a reward to the family who has achieved most reforestation in their land: a biodigestor to turn pig manure into clean energy. At first, it was a matter of comfort: women were tired of the long days picking up wood and tending to the fire to cook.
Commercial gas canisters, despite being subsidized, are still expensive and out of reach, so producing biogas at home meant a significant upgrade to their standard of living and real cash savings. After the first family demonstrated its use, 24 more followed suit. Animated by foreign visitors, they are now in the process of estimating the carbon impact of this innovation. If all goes well, they will be bottling and sharing the biogas with more families in the next few years. As entrepreneurs, Intag families are proud to be making global impact on climate change.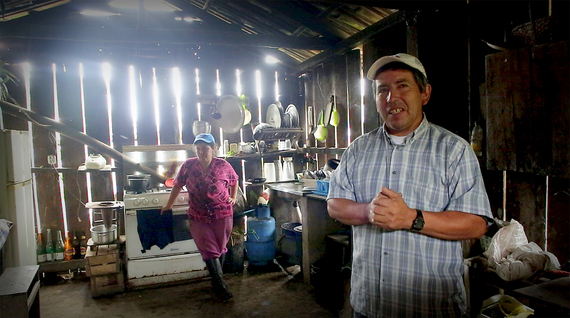 Rethinking the way we have always lived -
The Cedeño brothers lived through a turning point for their community a few years ago. Afredo and Augusto , along with 120 coffee-growing families saw their livelihoods and future at risk when they faced the worst drought in local history in the coast of Ecuador.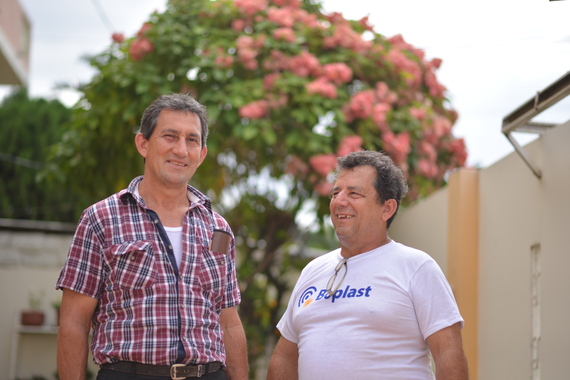 "No rain meant no income, so our loved ones, friends and families had two options: move to the city or venture deeper into the dry forest looking for better places to grow coffee"
Faced with this dilemma, the CEPROCAFE association chose to find a third way. They re-organized, re-trained and innovated. Now, they have recovered a significant portion of their ecosystem and conserve most of their water by producing shade-grown organic coffee. The agro-ecological techniques they learned have also meant raising their standard of living: the Cedeño brothers are proud to announce they have a niece who finished her university studies in economics- the first one in their family to earn a post-secondary degree.
We are Connected, let's Act Connected-
Writ large, the story of the CEPROCAFE, AMWAE and Intag communities could be the story of humanity. We are facing a turning point. We have the tech and innovations to solve it. At this point, it is a matter of will: do we have it in us to rethink and re-organize the way we have always lived? The individual and collective success stories of these rural innovators show us the path is safe, but not effortless.
As world leaders, influencers and activists convene in Paris to reach a new global climate agreement it is up to us to share solutions and spur action. From the Andean highlands to the Ecuadorian coast, our voices join those of thousands of rural innovators acting boldly to impact the future of our planet. These rural leaders understand how deeply connected they are to the world leaders making commitments in Paris, their impact is a loud chant, from Ecuador to France saying, "We are connected. Let's act connected."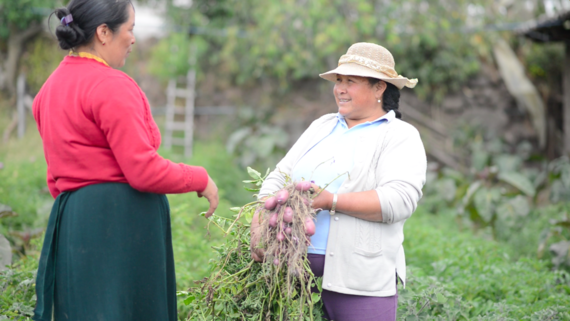 Calling all HuffPost superfans!
Sign up for membership to become a founding member and help shape HuffPost's next chapter