A troubling new report on youth suicide shows that the gap between rural deaths and urban deaths is widening; From 1996 to 2010, rates of death from suicide among children, teens and young adults were nearly double in rural communities, when compared to urban ones.
The disparity, said study lead author Cynthia Fontanella, Ph.D., of Ohio State University, is a sign that more needs to be done to understand the experiences of rural youth. She called for more funding to place mental health practitioners in schools and programs that empower primary care physicians to take on mental health issues with their patients.
"It's like a silent epidemic," said Fontanella. "Almost 67,000 kids have died over this period." The study was published recently in the medical journal JAMA Pediatrics.
Fontanella collected national suicide numbers for people aged 10 to 24 and extracted their location and cause of death. Then she categorized all 3,141 counties in the U.S. into 8 groups on a spectrum from rural to urban, depending on how big their populations were and how far they were from big metro areas. Finally, she controlled for confounding variables like high school and college education, race, income, unemployment, poverty and family structure.
She found that from 1996 to 2010, 66,595 youth had died from suicide. Broken down by gender, the rate of rural male suicide from 2008 to 2010 was 19.93 per 100,000 -- almost double that of 10.31 per 100,000 for urban boys and young men. Previous data from 1996 to 1998 show that this ratio used to be 18.98 per 100,000 (rural) versus 11.95 per 100,000 (urban), which means the gap between rural and urban suicide rates increased from 1996 to 2010.
For women, the rural suicide rate was 4.4 per 100,000, while the urban rate was 2.39 per 100,000. Again, previous data from 1996 to 1998 show that this ratio used to be 3.19 per 100,000 (rural) to 2.18 per 100,000 (urban).
The most common causes of death were firearm (51.1 percent), hanging and suffocation (33.9 percent) and poison (7.9 percent). All other methods accounted for an aggregated 7.1 percent. The firearms finding was no surprise to Fontanella.
"Rural residents tend to have greater access to guns, they're much more likely to grow up with guns and have guns in their home," she said. "Rural kids are 2.7 to 3.3 times more likely to die by firearm compared to a kid in an urban area." One way to combat rural youth suicide, she suggested, would be to mount educational campaigns about how to properly store and lock family guns.
Fontanella listed several other factors unique to rural life that may play into higher rates for youth suicides, having to do broadly with the culture, economics and geography of rural America. For one, rural areas are extremely understaffed when it comes to mental health professionals; she notes in her study that more than 85 percent of the federally-designated areas that are experiencing a mental health professional shortage are rural. Fontanella also pointed out that more than half of all counties in the U.S., which are all rural, do not have a psychiatrist, psychologist or social worker in residence.
This means that residents need to drive farther distances in order to seek professional health care, which sometimes leads to postponing care or arriving at a doctor's office deep into one's mental illness progression. Additionally, people in rural areas tend to live farther away from each other, which cuts people off from social networks and regular face-to-face contact with others. This generally fosters high levels of social isolation, which could contribute to feelings of loneliness and depression.
What's more, the Great Recession hit rural America the hardest. Residents in these counties are more likely to have low incomes and less likely to have health insurance that covers mental health services. The lack of job opportunities also means that many of America's rural youth leave home for work in big metro areas, which only increases the social isolation of the young people left behind.
Finally, when it comes to culture, Fontanella said research indicates that rural Americans tend to pride themselves on strength and self-reliance, and may stigmatize reaching out for help with mental illness, even if there is someone available in their area. People may also find that they lack anonymity in small towns, which may hinder efforts to reach out for professional help.
Some ways to surmount these boundaries in rural areas would be to explore integrated care -- placing a mental health profession in a primary care physician's office, or educating the primary physician to ask about mental health issues, said Fontanella. She also advocated placing mental health professionals in school, and exploring telemedicine, which is the practice of connecting with a therapist through videoconferencing technology like Skype. Finally, she recommended simple mental health education for parents, so that they could recognize the signs of depression in their children and teens.
"I think there's a low level of mental health literacy in rural areas, so depression tends to be under diagnosed," Fontanella concluded. "People often miss the signs of depression for kids in rural areas, so I think greater awareness of signs of depression in rural areas would be critical."
Related
Before You Go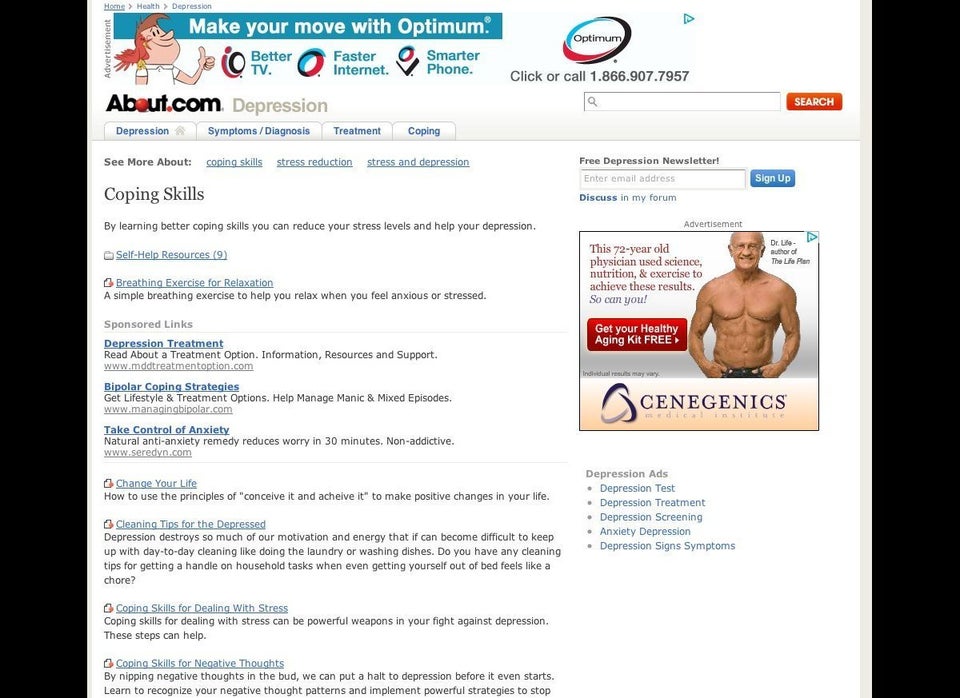 7 Helpful Websites For Coping With Depression