Heading into this week, Ron Howard's "Rush" was the forgotten Oscar movie. The drama, about the rivalry between race car drivers Niki Lauda (Daniel Bruhl) and James Hunt (Chris Hemsworth) during the 1976 Formula One season, stands as one of the year's best movies, but it had not yet made an impact with awards voters or critics' groups. That changed, however, over the last two days when "Rush" scored two Screen Actors Guild Award nominations (Outstanding Performance By a Male Actor In a Supporting Role for Bruhl and Outstanding Action Performance by a Stunt Ensemble in a Motion Picture) and two Golden Globes nods: Bruhl again for Supporting Actor, and Best Motion Picture - Drama.
"Rush" is such a great film, but it seemed like it could get lost in the bigger awards conversation. How nice is this recognition from the Golden Globes?It's a thrill for us. "Rush" is the very definition of a labor of love project. From Peter Morgan's script through cinematographer Anthony Dod Mantle, who, along with the rest of us, had to try to tackle this visually ambitious project more with creative will, sometimes, than with ready cash. The nominations are fantastic for the movie. The Screen Actors Guild nominations, not only for Daniel Bruhl but also in the stunt category, kind of epitomizes what people actually like about "Rush"; it functioned effectively on more than one level. The degree-of-difficulty factor was high for me as a director, and for all of us. It's great that it hasn't been forgotten, especially in a year as creative and diverse and exciting as this year has proved to be.
Daniel was nominated by the Golden Globes and Screen Actors Guild, and his performance is certainly one of the year's best. When did you realize he was doing something special with the role?Both Daniel and Chris were so well prepared that at our very first read through, I could see each actor had an excellent handle on the characters. We were able to grow and build on that foundation. As somebody who likes to think of himself as an actor's director, both performances were really gratifying to be a part of. I'm thrilled that Daniel is being acknowledged, because there are a lot of creative risks involved in that performance. That's a complicated, not-always-sympathetic character, and Daniel never shied away from any of those aspects. His talent and his work ethic and his creativity really mined the character for all its complexity and richness. That's why, I think, that the real Niki Lauda has so much respect for what Daniel did. Niki is a fascinating guy. He has become a friend. I have so much respect for him, and he can't help but tell you what he thinks. The fact that he was so respectful and appreciative of what Daniel has done is as great a review as we could have ever gotten on the movie.
You've obviously been through awards season before. Do you still enjoy this time of year?I'm finding it never gets stale. It's extremely exciting because each project is its own challenging undertaking. It means a lot when something is given that extra measure of respect and acknowledgement, not just for me, but for everyone involved. It also means that I'll get out and meet a lot of the other filmmakers who I otherwise don't really get a chance to meet. There's a competitive side to the awards season, but also a very collegial one. That's something that I've learned really look forward to. Otherwise, I go from project to project and I don't meet my peers very often. I look forward to having a good reason to go to the parties and functions and, sure, be nervous to see which names are read. But it's more about taking the time to reconnect with people I know or meet others who I have never had the chance to meet.
What are some of this year's movies that you've loved?Actually, I'm really looking forward to seeing the movies! I've been so swamped that all I've only seen "Captain Phillips," which I really liked. I thought Tom Hanks did a great job. Everybody involved, too. Paul Greengrass is remarkable. I felt likewise about "Gravity." What Alfonso Cuaron did, and Sandra Bullock and George Clooney, that's a real achievement. Those are the only two that I have seen. I'm dying to get home now, once we wrap, and start catching up. My father, Rance, has a nice supporting role in "Nebraska," playing Bruce Dern's older brother. I haven't had the chance to see "Nebraska" yet, so that's probably first on the list when we get home.
Before You Go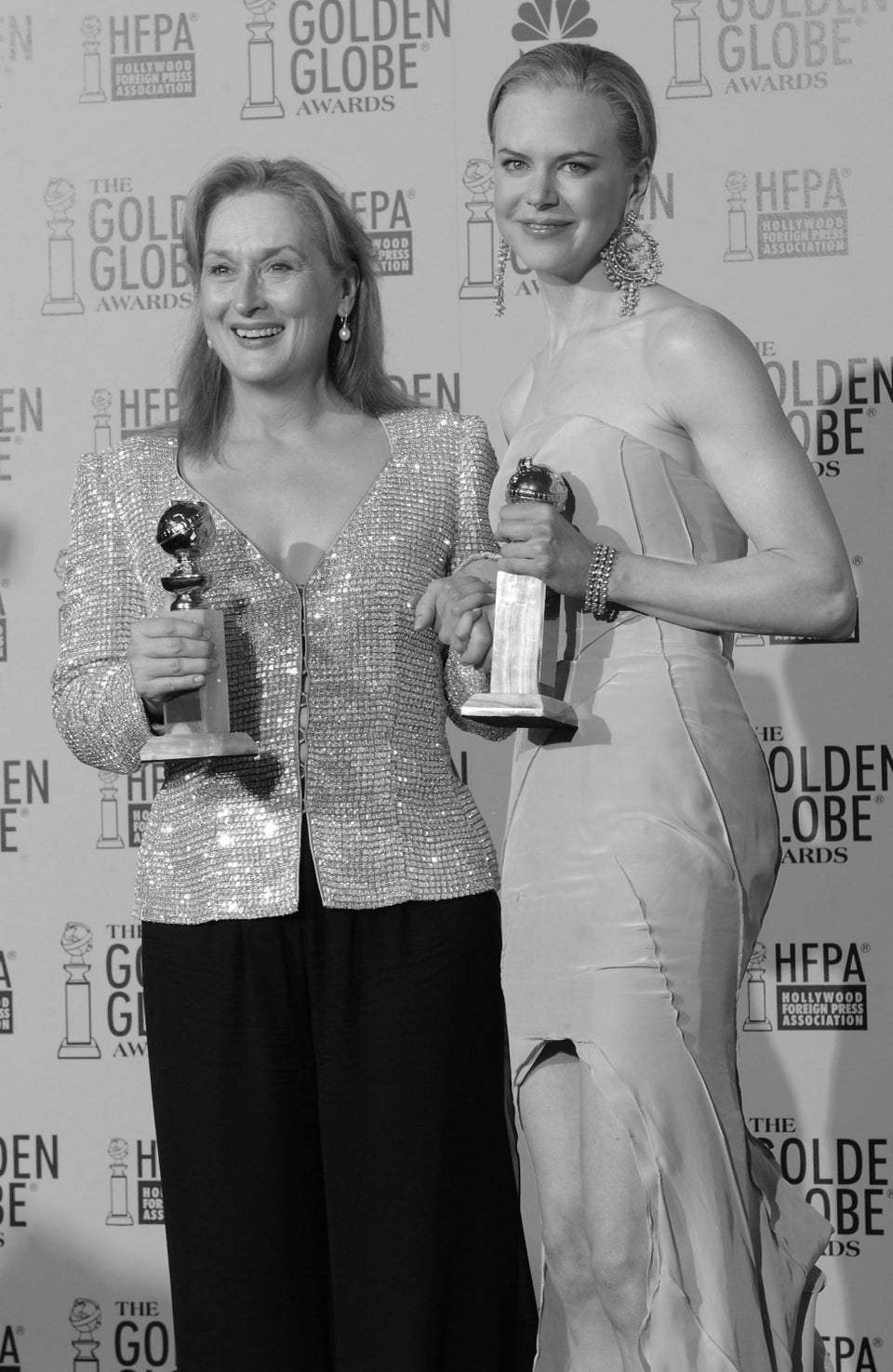 Glamorous Golden Globe Awards Photos
Popular in the Community