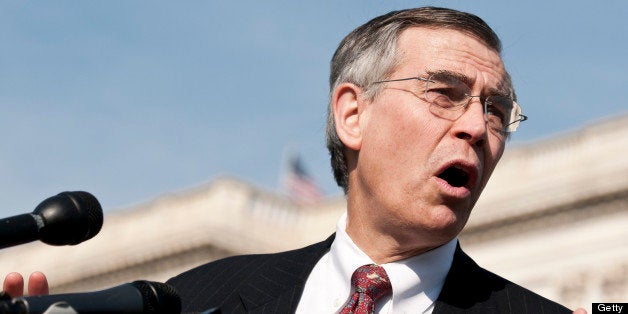 Climate change is becoming a heated issue in New Jersey's special U.S. Senate election.
"On climate change, either we take real action, or millions will die," Democratic Senate candidate Rush Holt candidly told voters in an Internet-only campaign ad released Monday.
The spot was promptly criticized by Republican Senate candidate Steve Lonegan, who called the ad "outrageous." Holt and Lonegan are competing in an Aug. 13 primary for the seat left vacant by U.S. Sen. Frank Lautenberg (D), who died last month.
"They have no proof of such a ridiculous statement," Lonegan said. He then posed the question to the other Democratic Senate candidates, asking if they also believe Holt's "radical, irresponsible and silly statements."
"I want to know if they really buy into this far left extremism," Lonegan said. Lonegan is one of the state's most conservative Republicans and has headed the New Jersey chapter of Americans for Prosperity.
Holt, who refers to himself as an energy scientist during his 15 seconds on camera, has a Ph.D. in physics and has taught the subject at Swarthmore College. Holt has also received the endorsement of seven Nobel laureates.
The candidate used the spot released Monday to promote a carbon tax to reduce emissions.
NJ.com reported that Holt has since defended the statements, saying that global warming is "not hysteria. It's documented."
"I think it's no exaggeration at all to say that millions will die. And in fact there's pretty good evidence that millions already have died because of climate change," Holt said in a Star-Ledger editorial board meeting Wednesday.
In the Democratic primary, Holt faces Newark Mayor Cory Booker, U.S. Rep. Frank Pallone and Assembly Speaker Sheila Oliver. On the Republican side, Lonegan is facing off against physician Alieta Eck.
Lonegan's denial of climate change has been slammed by Oliver, who calls him an "anti-science Republican with his head placed firmly in the sand on the crucial problems."
"Lonegan's radical agenda is dumbing down America by denying accepted scientific fact and placing oil profits ahead of middle class people affected by calamities like Superstorm Sandy," Oliver said in a statement released by her campaign.
New Jersey politicians have been caught in the spotlight for their opinions on the scientific theory before. In May, Gov. Chris Christie (R) told NBC's Matt Lauer that he could not be sure of the relationship between Hurricane Sandy and climate change.
"I haven't been shown any definitive proof yet that that's what caused it," Christie said. "And this is just, listen, this is a distraction. I've got a place to rebuild here and people want to talk to me about esoteric theories."
Calling all HuffPost superfans!
Sign up for membership to become a founding member and help shape HuffPost's next chapter
BEFORE YOU GO
PHOTO GALLERY
Connect The Dots On Climate Change