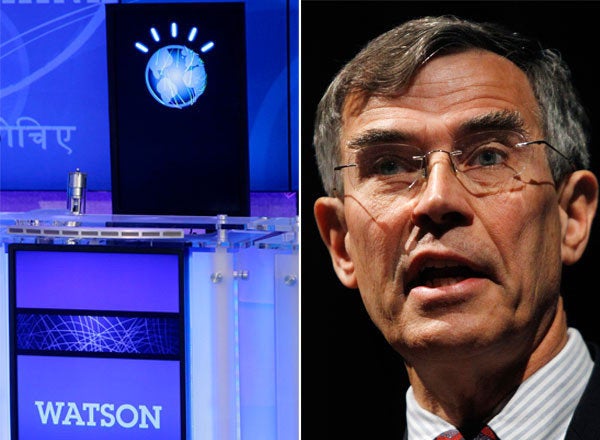 Rep. Rush Holt (D-N.J.) did Monday night what two of the most renowned champions of "Jeopardy!" couldn't -- he conquered "Watson," an IBM supercomputer designed to answer complex questions, on the trivia game show.
In a congressional showdown of man vs. machine, Holt, a five-time "Jeopardy!" winner and nuclear physicist himself, defeated the computer with a score of $8,600. Watson finished with $6,200, while Rep. Bill Cassidy (R-La.), a third finalist, rounded out the trio with $1,000, The Hill reports.
Holt and Cassidy were among five members of Congress who competed against "Watson" Monday night in an event put on by IBM at the Liaison Capitol Hill, according to The Hill. The other challengers proved less successful.
The Wall Street Journal reports on the fates of the other competitors, Jared Polis (D-Colo.), Jim Himes (D-Conn.) and Nan Hayworth (R-N.Y.):
Mr. Himes, gracious in defeat, kissed Watson's virtual LCD face as he departed the stage.

Mr. Polis, who lost by 15,700 points, was content with his performance, telling Washington Wire, "I avoided humiliation and came behind a supercomputer and a nuclear physicist," referring to Mr. Holt. Ms. Hayworth attributed her loss to a "slow-clicker"-something Watson didn't have to worry about.
While Holt's academic credentials may have made him a more likely candidate to defeat "Watson," there were certainly no guarantees. Ken Jennings, who played in 75 "Jeopardy!" contests before losing a game, finished a 2-match set against the computer earlier this month with less than a third of its final score. Brad Rutter, the all-time earnings champion on the game show, experienced a similarly massive defeat, tallying only slightly over a quarter of the machine's whopping $77,147 total.
Popular in the Community