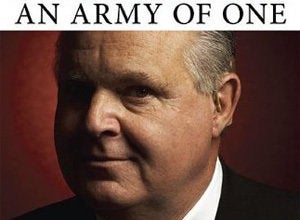 While working on "An Army Of One," his largely positive biography of Rush Limbaugh, journalist Zev Chafets enjoyed almost unprecedented access to the conservative talk show king. The pair exchanged many emails and Chafets was even allowed to visit the intensely private Limbaugh at his Palm Beach estate, discussing the 2012 race, racism, Obama and socialism, Michael Jackson and losing his virginity, among many other topics.
At the time of the book's writing this spring, Limbaugh's frontrunner for his support in the 2012 presidential race was Sarah Palin, whom he calls "the most prominent, articulate voice for standard, run-of-the-mill, good old-fashioned conservatism." A surprising second choice so far is Minnesota governor Tim Pawlenty, whom Limbaugh praised as a choice for the vice presidential nomination in 2008.
But it definitely won't be Mike Huckabee (Limbaugh considers him "an irresponsible populist") or Newt Gingrich (who has "gone soft" in Rush's opinion) or once-favored Bobby Jindal (he has stopped referring to him as "the next Ronald Reagan" and scarcely mentions him at all).
Some of Limbaugh's ranting about President Obama's "socialism" comes from his own fear that all of his wealth will be taken away from him. The day after the White House Correspondents Dinner in 2009, when comedian-in-residence Wanda Sykes joked that she hopes Limbaugh's kidneys fail, Limbaugh emailed Chafets:
"I know I am a target and I know I will be destroyed eventually. I fear that all I have accomplished and all the wealth I have accumulated will be taken from me, to the cheers of the crowd. I know I am hated and despised by the American Left."
Though adulatory in most respects (the New York Times calls it a "somewhat airbrushed" profile), Chafets does criticize Limbaugh's insensitivity on race issues. In an interesting reflection of Limbaugh's tone-deafness, Chafets captures a fascinating exchange between Rush and his longtime sidekick, black conservative James Golden, who plays the role of "Bo Snerdley", Limbaugh's Official Obama Criticizer.
Limbaugh dismisses black Americans' grievances, saying they "have to let go" and comparing their struggle to his own: "We all have obstacles. I have, because of my size and my opinions. But I believe in individuals, everyone succeeding." And he waved off Chafets's suggestion that some black children may feel strange about going to a school named after George Washington or Thomas Jefferson, founding fathers who owned slaves.
In front of Limbaugh, Chafets quizzed Golden on the subject and Golden replies that he used to stand up in English class and give a speech about the need for the Black Panthers. When Limbaugh, in shock, reacts: "But James, you're a conservative," Golden says that he is a patriot but that he doesn't celebrate the Fourth of July - "that's not my Independence Day. That's white people's Independence Day."
Later, Chafets calls it "cringe inducing" to hear Limbaugh try to show that he is not a racist by talking about his family's housekeeper when he was a boy.
In real life, Limbaugh's personality sometimes matches that of his crude El Rushbo character -- On his way to dinner with Rush and his fiancee, Kathryn Rogers, Chafets notes that when she walks in front of them up the stairs, Limbaugh cracks: "This is how I like the feminist movement. From behind."
Limbaugh doesn't talk much about his fellow talkers, including like-minded souls such as Sean Hannity and Mark Levin, who happen to be represented by Rush's brother, David Limbaugh. And he claims to have never listened to Don Imus or Laura Ingraham. As for Garrison Keillor, "I wouldn't even know where to find NPR on the dial." And he says Larry King "never had nice things to say about me, from 1988 to the present."
And he is not impressed with Bill O'Reilly. Asked for his impression of the Fox News and talk radio competitor, Limbaugh compares him to the blowhard TV anchor played by Ted Knight on "The Mary Tyler Moore Show":
"He's Ted Baxter. Sorry, but somebody's got to say it."
Chafets notes Limbaugh's libertarian streak, which puts him on the opposite sides of some big issues from family values conservatives.
"He regards homosexuality as, most probably, biologically determined, and while he opposes gay marriage as culturally subversive, he has no problem with gay civil unions. -- which is the stance of President Obama and Hillary Clinton... He is not opposed to capital punishment, but he 'wouldn't go to the mat over it."
Limbaugh also turned down repeated invitations from Jerry Falwell to speak at Liberty University and in 2009, he declined an offer to speak at the school's graduation ceremony and to receive an honorary degree.
Limbaugh and Clinton had wildly different recollections of an infamous meeting at the Kobe Club in Manhattan in 2007. While the former president says he walked over to Limbaugh's table as an act of Christian forgiveness for the talker's relentless attacks on his presidency, Limbaugh insisted that Clinton just wanted to flirt with his date.
According to Rush, Clinton brought over his friend, Los Angeles Mayor Antonio Villaraigosa to distract Limbaugh while Clinton flirted: "A minute later, I looked over and Clinton's face is three inches from my date's." Limbaugh says that Clinton repeated the gambit with his buddy, Ron Burkle.
Among the personal tidbits, Chafets notes:
- Limbaugh's odd response to rumors that his first sexual conquest took place at an apartment he shared in McKeesport, Pennsylvania when he was the morning drive-time DJ on a local station:
"I have no memory of THAT," he wrote me in an e-mail. "I don't remember where [I lost my virginity]. Honestly I don't. All I know is that there was NO ONE else there. That I am certain of."
- Surprisingly, Limbaugh was a "racial pioneer" while producing the scoreboard at Kansas City Royals ballgames in the late '70s and early '80s. He used to play Michael Jackson songs between innings which annoyed some conservatives in the crowd. "They used to say, 'Where do you think we are, Oakland?'"
In Kansas City, he struck up a close friendship with star George Brett -- Limbaugh even sang at Brett's wedding in 1992 and hosted a dinner party in celebration of Brett's 3,000th career hit.