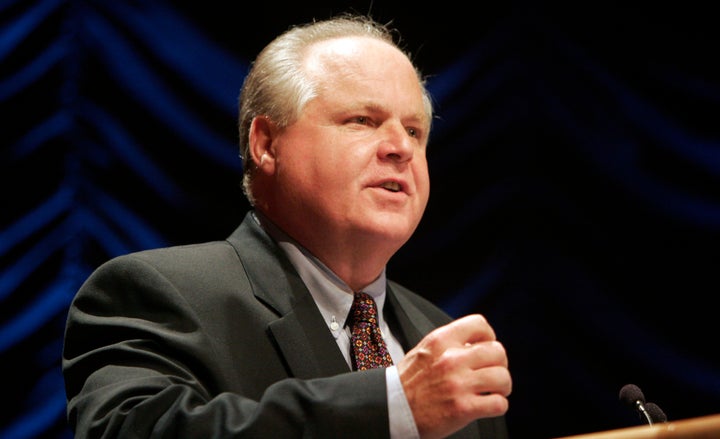 Conservative radio host Rush Limbaugh accused Black Lives Matter on Friday of being "a terrorist group," claiming the activists are perpetuating a "war on cops" across the country.
Limbaugh's remarks came in response to Thursday's deadly attack on police officers in Dallas. The "ambush-style" gunfire at a Black Lives Matter protest left five officers dead and seven more officers and two civilians injured. People had gathered to deplore the deaths of two black men, Philando Castile and Alton Sterling, at the hands of cops earlier this week.
Limbaugh was joined on his radio show by Heather Mac Donald, author of The War on Cops, published last month. The book explores the so-called "Ferguson effect," which posits that all the protests over police violence have pressured officers into being less aggressive, thus leading to an uptick in crime. The theory has been widely debunked.
Limbaugh and Mac Donald both claimed it's a "myth" that black men are disproportionately killed by police, despite actual evidence to the contrary. Mac Donald also criticized President Barack Obama for speaking out on the deaths of Castile and Sterling, suggesting that his rhetoric led to the Dallas attack.
"President Obama lied to the nation last night and he embraced the Black Lives Matter myth that there is a racist war by white officers against black civilians in this country," she said. "And we see the results."
"They're a terrorist group," he said. "They're quickly becoming a terrorist group committing hate crimes."
The radio host has previously denigrated Black Lives Matter as a "hate group."
In truth, the Black Lives Matter movement doesn't call for violence against police, and its supporters have widely condemned Thursday's shooting.
Limbaugh also accused Democrats of using the deaths of black men like Castile and Sterling for political purposes.
"We have a political party that's seeking to benefit from all of this," he said. "A political party, the Democrats, that are seeking to advance their agenda with every one of these unfortunate incidents. If that's the case, this isn't going to stop."
Later in the program, he insinuated that Democratic lawmakers wouldn't speak out against the suspected Dallas shooter because of his presumed political affiliations.
"Can we all agree that the shooter is not a Republican? We safely assume the shooter is not a Republican. Could we logically conclude that if the shooter votes, he votes Democrat?" Limbaugh asked.
Then he launched into criticism of Rev. Jesse Jackson for linking presumptive GOP presidential nominee Donald Trump's racist rhetoric with what Jackson called the country's "anti-black mood."
"What in the name of Sam Hill has Donald Trump have to do with any of this?" Limbaugh asked. (He didn't mention that a Trump campaign official had blamed Hillary Clinton for the shooting earlier on Friday.)
"When Democrats murder people with guns, Democrats never blame the gun," Limbaugh claimed.
Many Democrats, in fact, called for increased gun control after the Dallas shooting, including Obama.
"When people are armed with powerful weapons, unfortunately it makes attacks like these more deadly and more tragic, and in the days ahead we're going to have to consider those realities as well," the president said Friday.
Related
Before You Go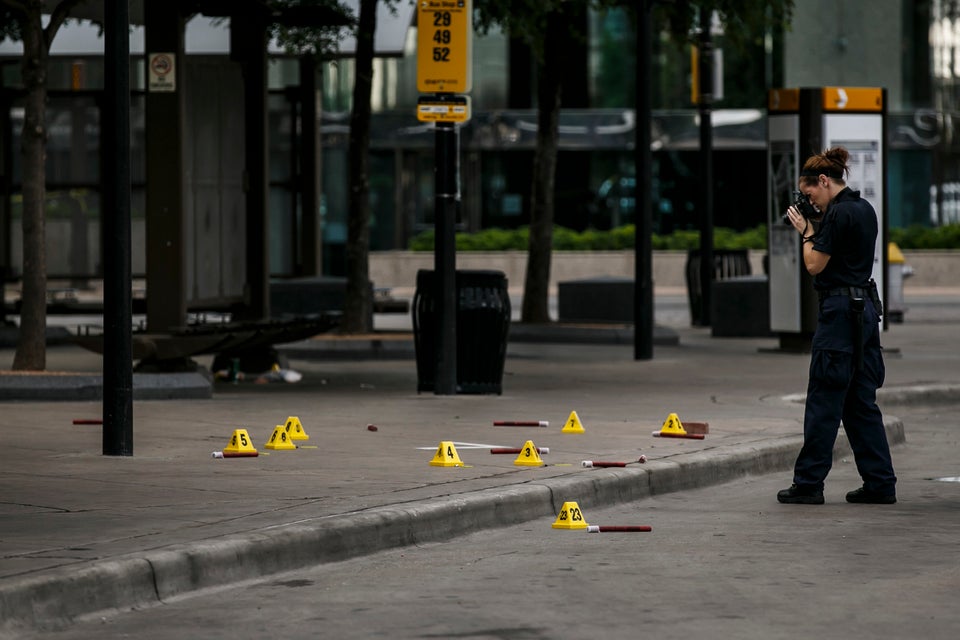 5 Officers Killed By Sniper Attack During Dallas Protest
Popular in the Community