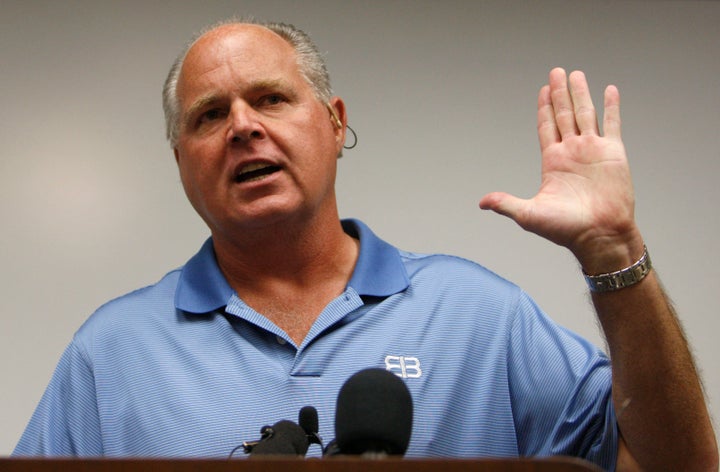 WASHINGTON -- The uproar over Rush Limbaugh's controversial comments about contraception coverage moved to Missouri this week, when it was announced that state House Speaker Steven Tilley (R-Perryville) had chosen the right-wing radio host to be inducted into the Hall of Famous Missourians.
The honor comes with a bust in the Missouri State Capitol. Other Missourians who have received busts include Mark Twain, Harry Truman and Scott Joplin.
E. Spencer Schubert, the sculptor chosen to create the Limbaugh bust, had so far remained silent on the matter. But on Wednesday, he released a statement stressing that his work is not political and he is not responsible for choosing the honorees:
I was honored when Speaker Tilley selected me to sculpt Buck O'Neil, a shining example of humanity. I was honored when he commissioned me to sculpt Dred Scott, an icon in civil rights history. And I was honored when Tilley commissioned me for yet another sculpture in the Hall of Famous Missourians; this time, Rush Limbaugh, an entertainer who says provocative things.

As a sculptor I decided long ago that the criteria for accepting commissions would be whether or not they are artistically interesting. I knew this would be an interesting project due to the fact that there are strong opinions on either side about Rush. Those strong feelings challenge me to create a portrait that each viewer sees the way that they want to see it. Again, I am a sculptor, sculpting is what I do. If it were left to sculptors to choose who was honored with portraits, the entire history of portraiture would look dramatically different.
Schubert told The Huffington Post the reaction in the past few days to the news of Limbaugh's induction had been "overwhelming." He didn't want to characterize the nature of the responses he's been receiving, but he said there were "a lot" of them.
"You can imagine the tone of it," he said, stressing again that he was a sculptor and all he wanted to do was focus on his art.
Tilley chose Limbaugh as an inductee before Limbaugh called Georgetown Law Student Sandra Fluke a "slut" and a "prostitute" for advocating that health insurance plans cover contraception. The bust will be paid for by private funds raised by the Speaker, who has defended his decision and plans to go forward with the induction in May.
Schubert first announced that he was creating a bust of Limbaugh in a blog post on his website. The sculptor revealed on Feb. 13 that he had been commissioned to create likenesses of both Limbaugh and Dred Scott, the slave who unsuccessfully sued for freedom for himself and his family in the famous 1857 case Dred Scott v. Sandford.