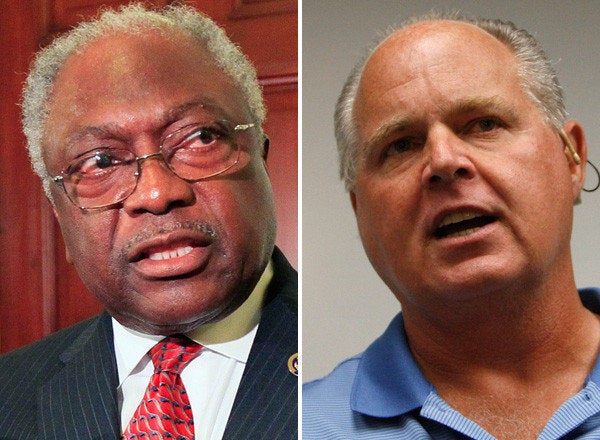 Rush Limbaugh dedicated a portion of his radio program Thursday to attacking alleged "racist Democrats" in a segment chock-full of thinly-veiled racial references itself.
The discussion centered around the ongoing competition between Rep. Steny Hoyer (D-Md.) and Rep. Jim Clyburn (D-S.C.) for the House minority whip leadership position.
The situation has put Democrats in a difficult spot. Hoyer is currently the House Democratic leader, but Pelosi is seeking the position for 2011, when she is no longer Speaker of the House. Consequently, Hoyer has his eyes on the whip job, which Clyburn currently holds. With Hoyer in a position to possibly knock the highest ranking African American House Democrat out of a leadership spot, Limbaugh pounced.
Perhaps sensing a potential powder keg, Limbaugh took the opportunity to toss some sparks Thursday, using his own incendiary words to reinforce his case that Democrats are approaching this situation with racial malice.
Here's how Limbaugh broke down what he called the "Steny Hoyer and Clyburn, Hoyer wanting Clyburn to go back to the back of the bus, leadership battle."
"So there you have it. All hell breaking loose in the Democrat Party because now black and brown people [are saying], 'Tonight we on the inside, we wanna get in there,'" Limbaugh said. "The white racist leadership of the Democrat Party is trying to ace out Clyburn."
Clyburn has had power, but they want to take it away from him here. Tavis Smiley is not down with this. Clyburn starts to demand respect and all hell seems to break loose in the Democrat Party. Hey, I have a suggestion. You know, I like to mediate these things. I like to bring people together. I like to unify people. I don't like seeing this kind of strife. Clyburn's worried about not having the car. Clyburn's worried about not having the perk of a big office, driver, and so forth. The way this can all be worked out, Clyburn's new position: Driving Miss Nancy. He gets to keep the car. He gets to go everywhere she goes, parties and everything else. He's not in the back of the bus. He's in the driver's seat, and she's in the back of the car being chauffeured. Solved problem.
Popular in the Community