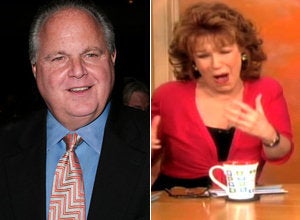 Rush Limbaugh may be dating 31-year old blonde Kathryn Rogers when he is in Florida, but last night in New York he let loose and had a 64-year old redhead on the brain: Joy Behar. On their respective shows this morning, both Regis Philbin and Joy Behar discussed the way Rush (whose escort for the evening was 82-year old Cindy Adams) greeted Joy at last night's screening of Bob Balaban's "Bernard and Doris."
Joy: "All of a sudden this humongous person comes up to me, from the left, a famous person -- big guy — and snuggles and nestles my neck. Hello, Joy! And gives me the big kiss....squeezed me to death also."
Regis had a different spin: "Joy Behar's face was flushed. She enjoyed it. She LOVED IT!