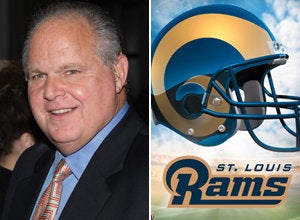 Rush Limbaugh is part of a group bidding for ownership of the St. Louis Rams football team, it has been confirmed.
Limbaugh — a native of Cape Girardeau, Missouri — first mentioned his interest in owning the NFL team this spring, and has now teamed with St. Louis Blues owner Dave Checketts to submit a bid.
"Dave and I are part of a bid to buy the Rams, and we are continuing the process. But I can say no more because of a confidentiality clause in our agreement with Goldman Sachs. We cannot and will not talk about our partners. But if we prevail we will be the operators of the team."
The Rams franchise is not necessarily for sale but the owners have expressed an openness to receiving bids.
"There is no inevitability for the team to wind up being for sale anyway," Kevin Demoff, the Rams' executive vice president of football operations said. "There may be bidders, but that doesn't mean there will be a sale. Ownership has said all along it would go through this process and evaluate its options. They are under no pressure to sell the team."
"I think what we've had here is a little social concern in the NFL. The media has been very desirous that a black quarterback do well,'' Limbaugh said. "There is a little hope invested in McNabb, and he got a lot of credit for the performance of this team that he didn't deserve. The defense carried this team."
In July, Fox's St. Louis affiliate quoted Limbaugh as saying, "It's a dream to own part or all of a National Football League team."
Related
Popular in the Community