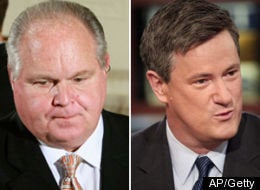 Rush Limbaugh took a swipe at Joe Scarborough on his Monday show, saying that the MSNBC host is praising Jon Huntsman to please his bosses.
Scarborough mourned Huntsman's departure from the GOP race on Monday, saying, "I hate to see it, 'cause he is one of the few true conservatives in the race." Limbaugh apparently did not think much of this line of reasoning, because he dismissed it entirely on his radio show. To him, Scarborough's comments were part of a broader plan by the former congressman.
"I think that's what you say when you have to keep your job at a liberal network," Limbaugh said. "I think that's what you say when you're trying to make a move, if you're a known conservative and you're trying to make a move to the center and become a favorite son of the left. It's what you say. It's where you work."
He then mentioned Pat Buchanan, who has recently been kept off the air at MSNBC because of his controversial book -- seemingly implying that Scarborough might not want to similarly run afoul of the network's top brass.
The two hosts have tussled in the past, with Limbaugh calling Scarborough a "neutered...moderate" and Scarborough saying that Limbaugh had not been a "real conservative" during the Bush administration.
Related
Popular in the Community