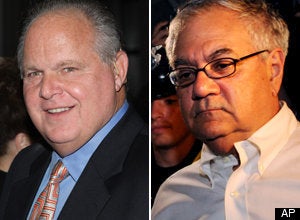 Rush Limbaugh has made what appears to be a joke mocking Barney Frank's sexuality in response to Frank's tough stance with a town hall protester Tuesday night.
Tuesday, Frank asked a protester who had compared President Obama to Hitler, "On what planet do you spend most of your time?"
On his show Wednesday (via Mediaite), Limbaugh responded, mocking Frank and asking, "Isn't it an established fact that Barney Frank himself spends most of his time living around Uranus?"
Frank was the second openly gay member of Congress and is "one of the most prominent LGBT politicians in the United States," his Wikipedia entry states.
Related
Popular in the Community