An incensed Rush Limbaugh accused President Obama of leading a "war" on marriage on his Wednesday radio show.
Though news of Obama's gay marriage endorsement broke just as Limbaugh's radio program ended, the media speculated that the president planned to comment on the subject well before the official announcement was made. A caller phoned in and told Limbaugh that pro-gay marriage forces were winning the argument in America.
"I see, we're losing!" Limbaugh snapped. "We've arrived at a point where the president of the United States is going to lead a war on traditional marriage. You wanna call that winning? Your side is winning when the president has to lead a war on traditional marriage? When you're losing in landslides and you haven't won a state?"
Limbaugh added that "zip, zero, nada" thought about gay marriage "until [liberals] decided [they] were unhappy and wanted to make everyone conform to the way [they] look at things, even if it meant bastardizing traditional words." Limbaugh stressed that "words used to mean something."
He then wondered if Obama's "war on traditional marriage" was similar to the "war on stay at home working mothers" and the "war on the Catholic Church." Limbaugh accused Obama and liberals for trying to "turn traditional institutions on their head," which forces him to get involved.
"People like me, who are minding their own business, all of a sudden have to stand up and defend these traditions and instutions from people like...the president, who's waging a war on traditional America." Speaking directly to the caller, Limbaugh said that gay marriage will "never" win at the ballot box. "You're always going to need a corrupt judge to overturn the vote of the people," he said.
Related
Before You Go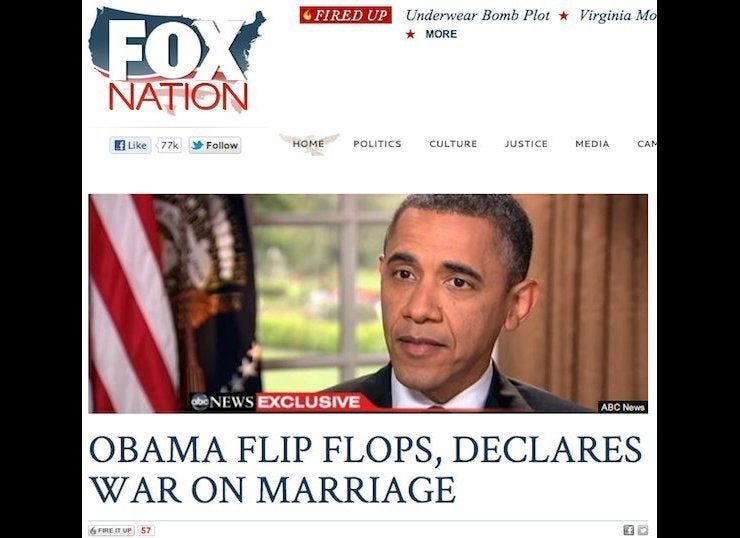 Media coverage of Obama's gay marriage announcement
Popular in the Community