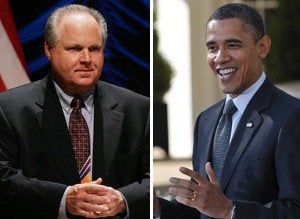 If the Christmas shopping season can start before Thanksgiving, so can "bah humbug" season.
Rush Limbaugh tried to rain on Barack Obama's Thanksgiving Day parade, lashing out against a proclamation issued by the president to honor the national holiday and the story behind it.
He also went on the war path against Native Americans, calling for a look at the "scoreboard" of number of people killed since European settlers arrived, and insisting that "a bunch of Native Americans scammed us" in the deal to purchase Manhattan.
We were the invaders. The Indians are minding their own business. We were incompetent idiots. We didn't know how to feed ourselves. So they came along and showed us how, and that's what Thanksgiving is all about. Now, he says nothing about the Constitution in his Thanksgiving proclamation, because he's got a problem with it ... Every cliche that is wrong about Thanksgiving shows up in his proclamation
Obama did acknowledge George Washington, who declared the first nationally recognized Thanksgiving when the Constitution was enacted. Limbaugh didn't further clarify why the document from 1787 required a mention, even though the holiday's roots are generally traced back to at least 150 years earlier and it wouldn't become a regular national holiday until more than 75 years later.
Insisting that he thought the presidential proclamation seemed like a "phony," "parody," "hoax" and "prank," Limbaugh then offered his own interpretation of the holiday's significance:
[Obama] said that Thanksgiving is about the Indians saving us, with their agriculture and everything else. The true story of Thanksgiving is socialism failed. Of course we showed them gratitude! We shared our bounty with them, not because we didn't know how to make it. It was because we first failed as socialists. Only when we turned capitalists did we have plenty. The Indians didn't teach us capitalism.
Limbaugh punctuated his pre-Thanksgiving show with shots at Native Americans, joking that Obama had said their "rich culture continues to add to our Nation's heritage ... at their casinos and on their reservations." He immediately made it clear he was making that last bit up.
The host also argued that more people have been killed from lung cancer, "thanks to the Indian-invented custom of smoking tobacco," than from the arrival of Europeans and their wars and diseases. "Where are our reparations?" asked the well-known cigar smoker.
And despite his problems evaluating the recent Manhattan real estate market, Limbaugh had another look at the one from 1626. "We got shafted when we bought Manhattan," he claimed, saying that European settlers initially paid a Long Island tribe that didn't own the land, then had to repurchase it from the actual owners. "We got scammed ... we got hosed ... we paid for Manna-hata twice because a bunch of Native Americans scammed us."
In the long run, there hasn't been much buyer's remorse on behalf of the settlers.
On this day of thanksgiving, it is appropriate that we recall the first Thanksgiving, celebrated in the autumn of 1621. After surviving a bitter winter, the Pilgrims planted and harvested a bountiful crop. After the harvest they gathered their families together and joined in celebration and prayer with the Native Americans who had taught them so much. Clearly our forefathers were thankful not only for the material well-being of their harvest but for this abundance of goodwill as well.
LISTEN TO LIMBAUGH'S SEGMENT ABOUT OBAMA'S PROCLAMATION:
A beloved American tradition, Thanksgiving Day offers us the opportunity to focus our thoughts on the grace that has been extended to our people and our country. This spirit brought together the newly arrived Pilgrims and the Wampanoag tribe -- who had been living and thriving around Plymouth, Massachusetts for thousands of years -- in an autumn harvest feast centuries ago. This Thanksgiving Day, we reflect on the compassion and contributions of Native Americans, whose skill in agriculture helped the early colonists survive, and whose rich culture continues to add to our Nation's heritage. We also pause our normal pursuits on this day and join in a spirit of fellowship and gratitude for the year's bounties and blessings.

Thanksgiving Day is a time each year, dating back to our founding, when we lay aside the troubles and disagreements of the day and bow our heads in humble recognition of the providence bestowed upon our Nation. Amidst the uncertainty of a fledgling experiment in democracy, President George Washington declared the first Thanksgiving in America, recounting the blessings of tranquility, union, and plenty that shined upon our young country. In the dark days of the Civil War when the fate of our Union was in doubt, President Abraham Lincoln proclaimed a Thanksgiving Day, calling for "the Almighty hand" to heal and restore our Nation.

In confronting the challenges of our day, we must draw strength from the resolve of previous generations who faced their own struggles and take comfort in knowing a brighter day has always dawned on our great land. As we stand at the close of one year and look to the promise of the next, we lift up our hearts in gratitude to God for our many blessings, for one another, and for our Nation. This Thanksgiving Day, we remember that the freedoms and security we enjoy as Americans are protected by the brave men and women of the United States Armed Forces. These patriots are willing to lay down their lives in our defense, and they and their families deserve our profound gratitude for their service and sacrifice.

This harvest season, we are also reminded of those experiencing the pangs of hunger or the hardship of economic insecurity. Let us return the kindness and generosity we have seen throughout the year by helping our fellow citizens weather the storms of our day.

As Americans gather for the time-honored Thanksgiving Day meal, let us rejoice in the abundance that graces our tables, in the simple gifts that mark our days, in the loved ones who enrich our lives, and in the gifts of a gracious God. Let us recall that our forebears met their challenges with hope and an unfailing spirit, and let us resolve to do the same.

NOW, THEREFORE, I, BARACK OBAMA, President of the United States of America, by virtue of the authority vested in me by the Constitution and the laws of the United States, do hereby proclaim Thursday, November 25, 2010, as a National Day of Thanksgiving. I encourage all the people of the United States to come together -- whether in our homes, places of worship, community centers, or any place of fellowship for friends and neighbors -- to give thanks for all we have received in the past year, to express appreciation to those whose lives enrich our own, and to share our bounty with others.

IN WITNESS WHEREOF, I have hereunto set my hand this twenty-third day of November, in the year of our Lord two thousand ten, and of the Independence of the United States of America the two hundred and thirty-fifth.

BARACK OBAMA
Related
Popular in the Community