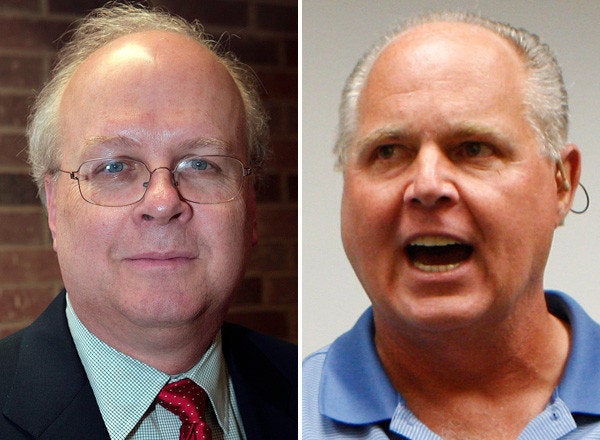 Rush Limbaugh singled out Karl Rove on his radio show Wednesday, bringing up the political strategist by name for his recent remarks about the Tea Party.
In an interview with Der Spiegel, Rove said that the Tea Party movement is "not sophisticated" and contrasted it with the "well-organized, coherent, ideologically motivated and conservative revolution" that accompanied Ronald Reagan's ascension in the 1980s.
Now, meanwhile, there are Republican political operatives insulting Tea Party members of not being sophisticated, not having read Friedrich Von Hayek. Wonderful, great people, but just not sophisticated. Karl Rove said this, but he's not alone. I got a note today from a friend, "Why would Karl be saying this, Rush? You know Karl. Why would he be saying this? Why doesn't Karl learn to keep his mouth shut?"

I said, "Karl means to say this. Mike Murphy, all these guys, they think this." It's not easy for me say here, folks, it really isn't. But it's what ought to be a euphoric period still indicates that on the Republican side there are divisions and jealousies and egos and competition.

And the simplest explanation is that the Tea Party cannot be claimed as credit by anybody. Nobody can say, "I am the Tea Party." Nobody can say, "I started the Tea Party." Nobody can say, "I saw the Tea Party coming, and I steered it." Nobody who makes a living generating political support, generating political donations, nobody in that business can point to the Tea Party and say, "I did it." So it's a threat.
The remarks are another indication that a battle is brewing inside the Republican party, between grassroots activists and the GOP establishment. Also on Wednesday, an original organizer of the Tea Party movement expressed his immense frustration with Republican leaders as well as some Tea Party organizations, denouncing Sarah Palin, Newt Gingrich and "douchebag groups."
If Rove finds more trouble for his latest comments on the Tea Party, it would not be the first time he has taken fire from grassroots conservatives. In September, he quickly walked back critical comments about Delaware Republican Senate nominee Christine O'Donnell in the face of mounting pressure.
Popular in the Community