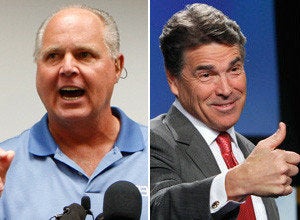 Rush Limbaugh lashed out at Rick Perry on Wednesday, comparing the Republican presidential candidate to Fidel Castro for his attacks on Mitt Romney.
Limbaugh has been aghast at the attempts by many GOP hopefuls to tarnish Romney's tenure at Bain Capital, the company he helped found. On Wednesday, he played a clip of Perry strongly criticizing Romney.
After hearing Perry attack so-called vulture capitalism and hit Romney for presiding over layoffs at companies Bain helped buy out, Limbaugh was incensed.
"That is indefensible!" he fumed. "It's absurd ... this is the language of leftists! This is the way Fidel Castro thinks, or says he thinks."
Limbaugh continued, saying that he was "appalled" that people were attacking Romney about "the one thing he's actually pretty clearly conservative about."
As BuzzFeed noted on Wednesday, Limbaugh is not exactly a neutral observer when it comes to Bain. The company happens to own Clear Channel, the radio giant that pays Limbaugh's salary.
Perry has also not backed down from his criticisms. On Wednesday, he repeated the phrase "vulture capitalism" during appearances in South Carolina, and attacked "the idea that you come in and destroy people's lives, the idea that you come in just to make a quick profit tear these companies apart."
Related
Popular in the Community