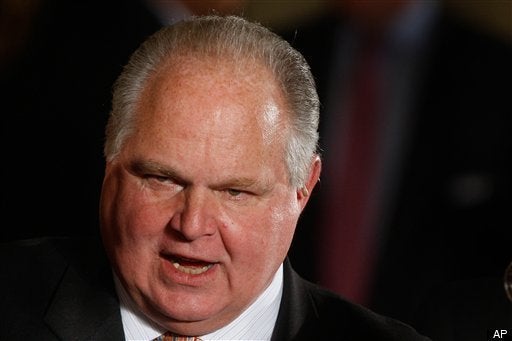 Rush Limbaugh escalated his attack on Sharon Bialek, the woman who has publicly accused Herman Cain of sexual harassment, on his Tuesday show. Limbaugh even compared Bialek's teenage son to a Nazi.
Bialek made the allegations during a Monday press conference with her lawyer, Gloria Allred. Limbaugh drew attention on the same day for making a slurping sound while discussing the correct pronunciation of Bialek's name (he pronounced it "Buy-A-Lick," a made the sound to mime a licking noise).
On Tuesday, Limbaugh played an interview that Bialek did with CNN's Carol Costello. Costello brought up Limbaugh's Monday soundbite, saying that the host had made a "not very attractive sound with his mouth" in referring to Bialek.
Limbaugh cried foul, choosing to focus on Costello's other claim that he had mispronounced Bialek's name. He said that he was only pronouncing it as Allred had. "I'm used to it, folks," he said of the criticism.
Limbaugh also attacked Bialek's son. In the CNN interview, she told Costello that her son had encouraged her to make her allegations public. "You think Obama doesn't love hearing this?" Limbaugh said. "A 13-year-old tattle-tale. I mean, that is a brownshirt preview here. Exactly what big government types like."
Calling all HuffPost superfans!
Sign up for membership to become a founding member and help shape HuffPost's next chapter
BEFORE YOU GO
PHOTO GALLERY
Moments From Herman Cain's Campaign