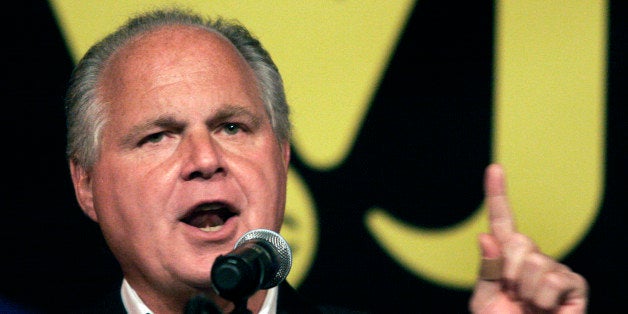 Conservative talk radio icon Rush Limbaugh slammed President Barack Obama's Trans-Pacific Partnership trade deal on Friday, telling listeners, "The odds are the United States is gonna take it in the shorts."
Limbaugh argued Republicans shouldn't do Obama any favors by helping him pass a secretive trade agenda that his own party does not support.
"Republicans are providing the necessary push to get it passed, which kind of bothers me," Limbaugh said. "Since it's an Obama deal, the odds are it isn't good. Since it's an Obama deal, the odds are the United States is gonna take it in the shorts, as we have on so much of the Obama agenda, both domestic and foreign policy."
A host of tea party groups have opposed Obama's trade agenda for months. But Limbaugh's entrance into the debate significantly disrupts Republican leaders' hopes of securing a deal with Obama by overriding objections from House Democrats, given the radio host's substantial influence over conservatives.
A significant bloc of tea party Republicans has rejected granting Obama so-called fast track authority to streamline the approval of a major trade pact the administration is negotiating with 11 other nations. Fast track would strip Congress of the ability to filibuster or amend whatever deal Obama eventually reaches.
Although the Senate passed a fast track bill late Friday evening, tea party Republicans and Democratic skeptics currently outnumber the legislation's GOP supporters in the House.
"It makes no sense for Republicans to bail Obama out on this," Limbaugh continued. "It literally doesn't."
"Why in the world, when Obama's trade deal is flittering away by the wayside because his own party doesn't want it -- a trade deal that should not be authorized because nobody has seen it -- do all of a sudden Republicans come along to bail it out and essentially make it possible?" he asked.
The U.S. Chamber of Commerce and Republican leaders say the TPP will boost economic growth. Tea party conservatives claim it will undermine U.S. sovereignty, while liberal critics argue it will exacerbate income inequality and empower foreign corporations to attack important U.S. regulations.
Limbaugh emphasized the extreme secrecy the administration has adopted in pursuing the president's trade agenda -- a critique typically launched by liberal opponents. Obama treats draft TPP texts as classified information, making it a crime for any lawmakers who have viewed the deal to share its details with constituents.
"They would not allow any of this deal to be made public. Members of Congress, House and Senate, had to go to a private room to read it," Limbaugh said. "They couldn't leave with their notes. They weren't allowed to tell anybody what they read. Jeff Sessions had a massive op-ed piece and floor speech in the Senate about this. It's a disaster, just on that basis alone. It's not how things happen in this country."
The conservative radio host differentiated himself from liberal critics of Obama's trade agenda by attacking Sen. Elizabeth Warren (D-Mass.), one of the most popular figures in progressive politics and an opponent of TPP. Limbaugh seemed to cite a bizarre hit piece in Politico that suggested Warren's opposition to Obama on trade was hypocritical. The Politico piece doesn't make sense. Warren's primary critique of Obama's trade agenda is that it will allow foreign corporations to sue the government to undermine U.S. laws and regulations. Politico noted that Warren was paid as an expert defending the U.S. government from a trade lawsuit launched by foreign corporations in 2000. The two positions are perfectly consistent.
Limbaugh further differentiated himself from liberal critics by highlighting those concerns.
"There's another reason the left, the Democrats, don't like it," Limbaugh said. "They think that the Obama trade deal empowers evil corporations to sue things like the United Nations over EPA regulations and so [on]. They really hate it for that reason. "

Before You Go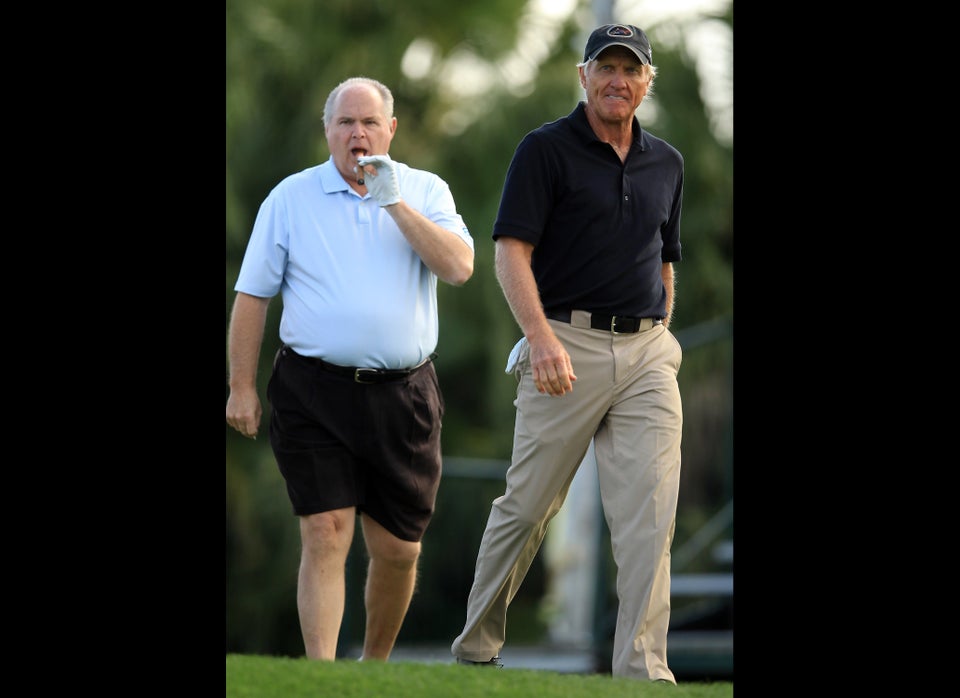 Rush Limbaugh
Popular in the Community