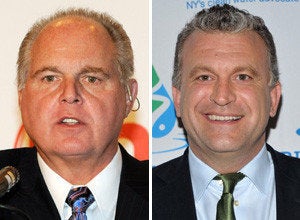 Rush Limbaugh attacked MSNBC host Dylan Ratigan on his Monday show, saying that Ratigan was actively advising the Occupy Wall Street movement behind the scenes.
Limbaugh began his segment by saying that President Obama was "responsible" for organizing the Occupy Wall Street protests. "It's Obama's protest to counter the Tea Party...Democrats are so jealous of the Tea Party, they can't see straight," he said.
He then turned to Ratigan, who has been an enthusiastic proponent of the protests. Limbaugh referenced a claim that some journalists "are advising the protesters" when the cameras are not rolling. Limbaugh called Occupy Wall Street a "construct of the media Democrat industrial complex" and said that "Dylan Ratigan at MSNBC and Matt Taibbi are sending emails back and forth with organizers telling them how to position their demands, that they've got to have some demands, how they can improve their coverage."
Popular in the Community