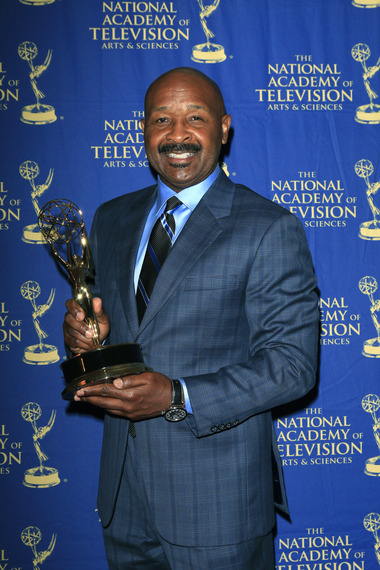 Photo courtesy of Rushion McDonald
Achieving success can be a lonely journey, driven by many personal sacrifices, and an unrelenting quest toward the pursuit of a dream. For entrepreneurs, this can mean working extremely long hours, managing conflicting priorities, struggling to meet others' time management demands, and much more. These unyielding pursuits to achieve success can lead those within an entrepreneur's support system to feel less important, left out, or unwanted. Therefore, an entrepreneur's support system should remember this mindset, "Just because I'm not doing something you want me to do ... doesn't mean that I'm being selfish...", according to Rushion McDonald.
McDonald is an entertainment powerhouse, a Hollywood writing veteran, a philanthropist, a man who clearly cares about others, and the architect behind the Steve Harvey global media brand. These descriptors are amazing, but his ability to drive this multi-million dollar empire, a brand that's immediately recognizable, and also commit to giving-back to develop individuals and communities is an achievement that others should emulate.
Prior to working on television and movie productions, McDonald had a successful full-time career at IBM. However, he believed that a corporate job would limit his possibilities and control over his future. These beliefs consumed him as he worked part-time to refine his ability to make others laugh in comedy clubs. Then, after being named by Showtime as one of the fifty funniest people in America (Texas) for three consecutive years, this recognition strengthened his desires and emboldened his decision to leave IBM to pursue success in the entertainment industry.
In 1993, Harvey provided McDonald with his first writing break on the television series "Me and the Boys", which began their 20+ year Hollywood working relationship. Then, in 2000, these men partnered to launch "The Steve Harvey Morning Show", which is a radio program that started in the Los Angeles market. It would take this team approximately five years after Harvey's radio show's debut before it would become nationally syndicated in 2005.
Someone who is recognized for their comedic talent might be selfish about their craft and sometimes cocky about their ability. However, this wasn't the case for McDonald --- who decided to forego his personal pursuits to focus on the development of the Steve Harvey brand. For him, this decision was easy because he understood Harvey's connection to his work.
McDonald fondly recounted,
"I saw Steve Harvey on stage ... and he did some things on stage that I could never do... I said, 'Wow, this guy's passion on stage was far greater than mine. He truly understood his passion and at the time I was still trying to figure out who Rushion was in 1992.' When I was given an opportunity as a writer and a producer, then I discovered my passion ... to produce and create. Once I realized that - being able to stay in my lane - then building Steve's brand become very easy to do".
By not allowing his ego to cloud a greater vision, there was a realization that he could do more for himself (and Harvey) by being the strategic architect behind the scenes instead of going after his individual comedic pursuits. This unwavering self-confidence and greater aspirations demonstrates the strength and forethought of this entertainment industry veteran.
This powerful team was already very successful, but their next strategic project would drastically change both of their futures. In 2009, Harvey released his New York Times best seller "Act Like a Lady, Think Like a Man". This book would be pivotal to even greater acclaim, the making of a movie based on the book (2012), the launch of the "Steve Harvey" television show (2012), and much more with many of these strategic operational maneuvers spearheaded by McDonald.
One of the questions that individuals ask him is, "Do I need an agent or a manager"? According to McDonald, this isn't required. He said that individuals need to have talent, be organized, know their brand, be consistent, and have something that consumers want to buy. He also stressed that individuals must have reasonable expectations; success doesn't normally happen overnight. Moreover, he emphasized that it's critical to build relationships and a dynamic network. Anyone who pursues their dream(s) must be ready for negative feedback, because individuals can be judgmental.
McDonald offered these additional comments about managing one's brand:
Your brand should be treated like a business;
It should be promoted daily;
Market yourself in a way that it's clear that you understand yourself and your capabilities.
The journey toward success can be very lonely and it also can have lots of doubters, per McDonald. Furthermore, he said, "Don't let anyone tell you that you can't do something; you can't allow that to happen; you have to give 100%; be willing to change if the opportunity presents itself; wake-up afraid every day; have a willingness to ... accept new information".
Some might think that someone with his accomplishments might not be accessible; however, this isn't the case. McDonald is committed to helping others and also giving free advice. Every Monday from 12 - 1 p.m. EST, he answers questions on his Facebook fan page. The goal of these sessions are to engage and drive real solutions. These weekly town halls are an incredible opportunity for individuals to engage with a successful entrepreneur. For those who aren't able to attend his sessions, McDonald offers this advice: be patient, be consistent, have a long-term perspective, have a plan, and be willing to make adjustments.
Another community initiative associated with McDonald is the "Ford Neighborhood Awards; affectionately known as the "Hoodie Awards". These awards were created to celebrate the many individuals who engage in countless activities and priceless work to uplift their communities. A lot of the work that's done within these communities are self-funded by individuals who really care about making others' lives better. These awards recognize community-based programs and leaders who provide gateways for those who want to be enriched, informed, and uplifted (spiritually and personally).
Sage advice offered by McDonald for building a successful business:
Be realistic about the things you want to do in life; ask yourself, "How much do you want to commit to it?";
Sometimes you don't want to continue to push forward, but there's no rest for the weary;
Don't let frustration stop you from being successful;
The value you give to frustration will impact the amount of success you'll achieve;
If you want to be successful, you have to be selfish. "The average person ... doesn't look inside their soul ... doesn't go deep enough inside themselves to ask: am I morally happy; am I doing things that make me feel good every day"?
McDonald is an oracle of very thoughtful commentary and suggestions. He wants individuals to know from his experiences that "I don't think anybody were doubters. I think the average person just doesn't conceptualize it as possibilities; doubters don't understand; they can't conceptualize". However, he quickly added, "Haters are people who no matter how much success you get they (always) have something bad to say about you". One of the most salient points McDonald offered was, "Stop devaluing your contribution to life and start helping other people. Then, you'll get a better understanding of your value".
Who is Rushion McDonald? According to him,
"A very talented individual who exploits all of his talents that God has given him. ... I don't fear change. I welcome opportunity and when opportunity presents itself, I try to take advantage of that. ... My philosophy is that every day that you wake-up ... You need to prepare for that opportunity or that challenge that is presented to you and not be discouraged by it".
He also added, "Individuals maintain routines. For him, everything is a challenge and a new day". Undoubtedly, McDonald isn't afraid of change and continues to drive things his way every day.
This post originally appeared on S. L. Young's blog on his website at: www.slyoung.com
Support HuffPost
The Stakes Have Never Been Higher
Related
Popular in the Community