WASHINGTON -- Russ Feingold has been reaching out to supporters in recent weeks to discuss a 2016 Senate bid to retake his old seat from Republican Ron Johnson, sources with knowledge of the calls told The Huffington Post.
The progressive Wisconsin Democrat was wiped out of the Senate in the tea party wave of 2010, but since then, many supporters have been keeping their fingers crossed that he'd run again -- in a presidential election year likely to be more favorable to Democrats.
Multiple sources who spoke on the condition of anonymity told HuffPost that in recent months, Feingold has talked to Sen. Tammy Baldwin (D-Wis.), Milwaukee Mayor Tom Barrett (D) and Rep. Mark Pocan (D-Wis.), among others.
Feingold will step down in March from his position as the State Department's special envoy for the Great Lakes Region of Africa, the sources indicated, and can't make an announcement before that.
But he toyed with reporters on Tuesday during an event at the U.S. Institute of Peace by referring to his aide, Mary Irvine, as his "once, current and, I hope, future chief of staff."
A source close to Feingold confirmed that the former senator has been having conversations with a number of supporters, but refused to comment further on his plans. "After Russ steps down from the State Department in March," the source said, "there will of course be a transition period before any decision is announced. The enthusiasm expressed for Russ over the past week has been truly incredible."
Feingold is a longtime opponent of special interests' influence on campaigns and lawmaking. Along with Sen. John McCain (R-Ariz.), he co-authored landmark campaign finance legislation that was later gutted by the Supreme Court in its Citizens United decision. After his 2010 loss, Feingold started Progressives United, a group dedicated to combating corporate influence in politics.
The Wisconsin Democrat also became known for staking out sometimes lonely positions on national security. In 2001, Feingold was the only senator to vote against the Patriot Act, which greatly expanded the federal government's surveillance powers. He was also one of the 23 senators who voted against the war in Iraq.
Although Feingold has not yet publicly commented on whether he will be running -- he is at the State Department and prohibited from doing so -- Republicans are already targeting him and trying to portray him as too liberal for Wisconsin.
"Liberal Russ Feingold is a career politician whose time with the State Department was just a placeholder until he could run for political office again," said National Republican Senatorial Committee spokeswoman Andrea Bozek in a press release Tuesday. "Unlike Ron Johnson who has spent his career creating jobs in the Fox Valley, Feingold has spent over two decades in politics and has gone from one taxpayer-funded job to the next. Wisconsin families rejected his tax-and-spend ways once and they will do it again if necessary."
The Wisconsin Republican Party has made similar attacks, and even started a site called RadicalRussFeingold.com.
"Russ Feingold is too radical for the U.S. Senate, and Wisconsin voters should be wary of his voting record of supporting one disastrous policy after another," said Joe Fadness, executive director of the Republican Party of Wisconsin, in a statement to HuffPost. "His desperate attempt to return to power is nothing more than a repackaged effort to push failed policies that are wrong for Wisconsin."
A 2014 poll by the left-leaning Public Policy Polling group indicated that Feingold would lead Johnson, 47 to 41, in a potential rematch.
"Johnson has done very little to grow his support," said a longtime Wisconsin Democratic strategist who requested anonymity in order to speak openly. "He was obviously elected in an off-year election that was a Republican wave election and he hasn't done the sort of things that you would expect from someone to run in a presidential year election. He really comes at this race from a place where he hasn't really moved beyond the tea party support that largely helped elect him in 2010."
Wisconsin Democrats say they expect Feingold to easily win the Democratic nomination -- with a strong chance that he won't have any challengers at all -- since he remains a popular figure with party activists in the state. Many wanted him to run against Gov. Scott Walker (R) in the 2012 recall election, and were disappointed when he chose not to.
"This Senate race in Wisconsin is shaping up to be the number one targeted pickup of the cycle for Democrats, and all eyes are on Feingold to see if he can put together a race that builds not only on his past strengths, but also address some of the challenges from the 2010 loss," said Patrick Guarasci, a Democratic strategist in Wisconsin.
The Hill recently reported that Democratic Senatorial Campaign Committee Chair Jon Tester (Mont.) said that he had talked to Feingold about a possible run. Tester added he believed the Wisconsin Democrat had learned from some of his 2010 missteps, when he ran was what widely acknowledged as a brutally anemic campaign.
"The conversation [with Feingold] was 'It's a new day now,'" Tester said. "In 2010, Citizens United started about two-thirds of the way through on that race, I believe it was in June on a November election. It's a different world now. ... Russ is a good guy and if Russ chooses to [run] he'd be a formidable candidate. I think he learned from the last election."
This story has been updated to include further detail about Republicans' criticism of Feingold.
Want more updates from Amanda? Sign up for her newsletter, Piping Hot Truth.
Before You Go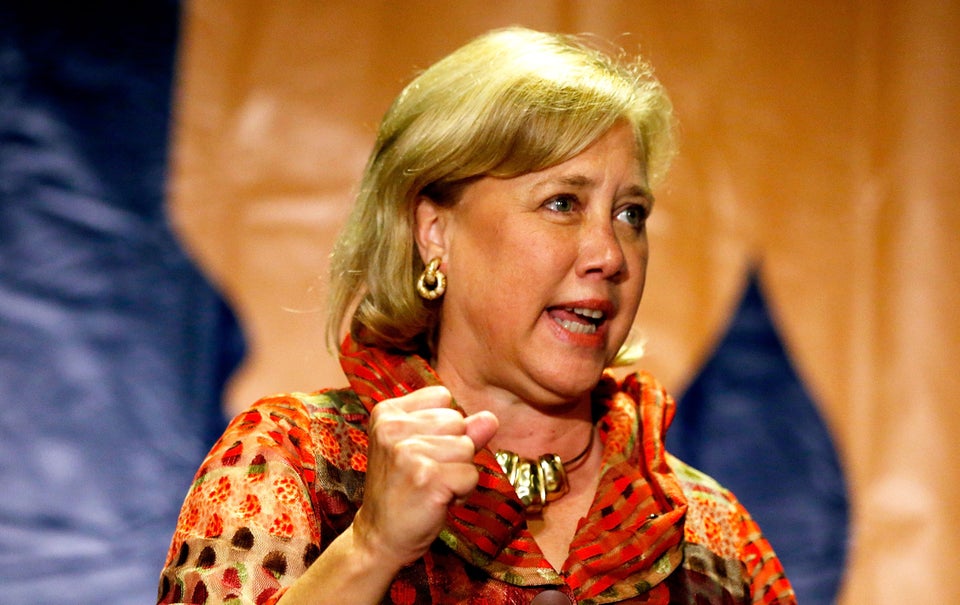 2014 Election Results: Winners & Losers
Popular in the Community