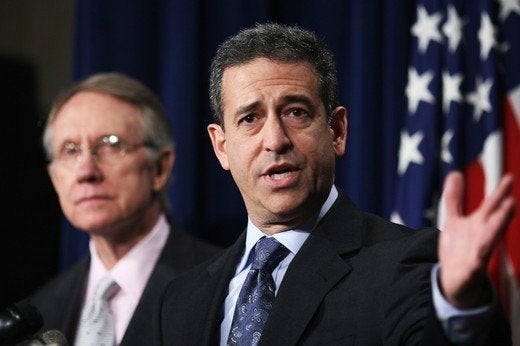 MINNEAPOLIS, Minn. -- Former Wisconsin senator Russ Feingold issued Democrats a dire warning at the annual Netroots Nation conference here on Thursday, saying the party was in danger of losing its "soul" if it accepts corporate contributions in the 2012 elections.
"Sometimes we have to be very direct with the Democratic Party," said Feingold to the crowd of progressive activists and bloggers at the Minneapolis Convention Center. "Just as you have long pushed our Democrats to stand up for their ideals, I'm here this evening to ask you to redouble your efforts. I fear that the Democratic Party is in danger of losing its identity."
Feingold pointed to Priorities USA, a new Democratic independent expenditure group -- known as a super political action committee (PAC) -- that is allowed to raise and spend unlimited amounts of corporate money. It was launched by former deputy White House press secretary Bill Burton and former senior adviser Sean Sweeney in April.
"Creating those kinds of super PACs for Democrats is wrong. It is not something we should do. I disagree," Feingold said. "I think it's a mistake for us to take the argument that they like to make -- that what we're going to do now is, we're going to take corporate money like the Republicans do, then after we win, we'll change it. When's the last time anyone did that? Most people don't change the rules after they win."
"I think we'll lose anyway if we do this," he continued. "We'll lose our soul when it comes to the issue of corporate domination. People will see us as weak. People will see us as corporate-lite. We'll gut our message. I think it's not just wrong, I think it's a dumb strategy. It's dumb because people will not believe us if we do this."
Feingold lost his election in 2010 in the face of heavy outside spending on behalf of his Republican opponent, Ron Johnson. He discouraged outside Democratic spending on his behalf, as he has consistently done in his elections.
He told the Netroots crowd that he understood that Democrats want to win, and that Republicans "have found more ways to play dirty."
"But Democrats should just never be in the business of taking corporate contributions," he said. "It's dancing with the devil. It's a game that we will never win."
When Priorities USA launched, Burton discussed Feingold's disapproval with The Huffington Post, saying, "If the Koch brothers are going to spend $100 million promoting their agenda, we have to do things immediately to stem their influence."
Feingold also called on President Obama to make campaign finance reform and the combating of corporate influence in elections a centerpiece of his own campaign.
White House Communications Director Dan Pfeiffer is set to address the conference Friday Morning.
In May, Feingold sent an email to supporters of his Progressives United PAC, shaming two prominent Democrats -- House Minority Whip Steny Hoyer (D-Md.) and Sen. Claire McCaskill (D-Mo.) -- for being too beholden to corporate interests.
He also called out Sens. Mitch McConnell, (R-Ky.), Rob Portman (R-Ohio), Joe Lieberman (I-Conn.) and Rep. Darrell Issa, (R-Calif.) for opposing a White House executive order under discussion that would require government contractors to disclose their political donations.
Popular in the Community