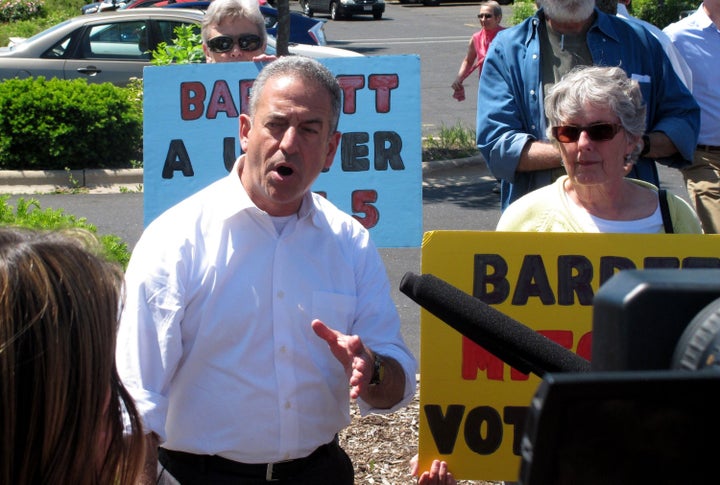 MILWAUKEE -- Former Wisconsin Democratic Senator Russ Feingold is confident Milwaukee Mayor Tom Barrett (D) is going to unseat Wisconsin Gov. Scott Walker (R) on Tuesday.
"Let me say this: I believe, that in a stunning upset, Barrett is going to win this thing. I think Barrett's going to win," said Feingold in an interview with The Huffington Post at a Starbucks in downtown Milwaukee on Thursday.
Feingold said he wasn't deterred by the recent Marquette University poll showing Walker with a seven-percentage point lead, noting that other internal polls had the race significantly closer.
Both Democrats and Republicans say the key at this point is turning out the most number of voters, since there are very few undecided Wisconsinites left to persuade.
Barrett lost to Walker in the 2010 gubernatorial race, and Feingold lost his seat to Sen. Ron Johnson (R-Wis.), who was heavily backed by the Tea Party. That election saw sweeping wins for Republicans nationwide.
Feingold said it's important for Democrats to make sure that turnout is higher than in 2010, predicting it will help Barrett.
"He didn't win by an overwhelming margin in 2010, and we know that by all estimates, it's going to be a higher turnout than 2010. It won't be as great as 2008," he said. "But we also know that those people that will be voting are going to be tilted heavily to Barrett. You know, the other side maxed out with their people in 2010. They had extremely good turnout."
In other words, Feingold expects Republicans to get out the maximum number of people they can -- essentially the number they did in 2010. But Democrats, he argues, will be the ones making up the difference and accounting for the higher turnout, since people who stayed home in 2010 will come out for the recall and tip the balance for Barrett.
When asked who these new voters will be, Feingold replied, "The kind of people who were angered by what he did and the way he did it, are people who ... may not always vote but will be damned if they don't vote this time.
"My general belief is that the side that feels wronged usually has the greatest intensity," he added. "That often decides elections. I think the turnout will not just be strong, I think the turnout will be somewhat greater in the areas where we are stronger. So I think that will tilt the balance."
The Government Accountability Board, which oversees Wisconsin elections, predicts near-presidential levels of turnout on Tuesday. Between 60 and 65 percent of the voting age population -- or approximately 2.6 to 2.8 million people -- are expected to cast absentee or regular ballots, which would be higher than the 2010 elections but lower than 2008.
Feingold said he was happy to see President Bill Clinton coming out to the state, predicting it will "really help" Barrett's effort. When asked whether President Obama has done enough to support Barrett, Feingold replied, "I would welcome a few more comments between now and the election. I'm not unhappy about it, but I'm hoping he will weigh in a little more between now and Tuesday."
Support HuffPost
The Stakes Have Never Been Higher
Popular in the Community