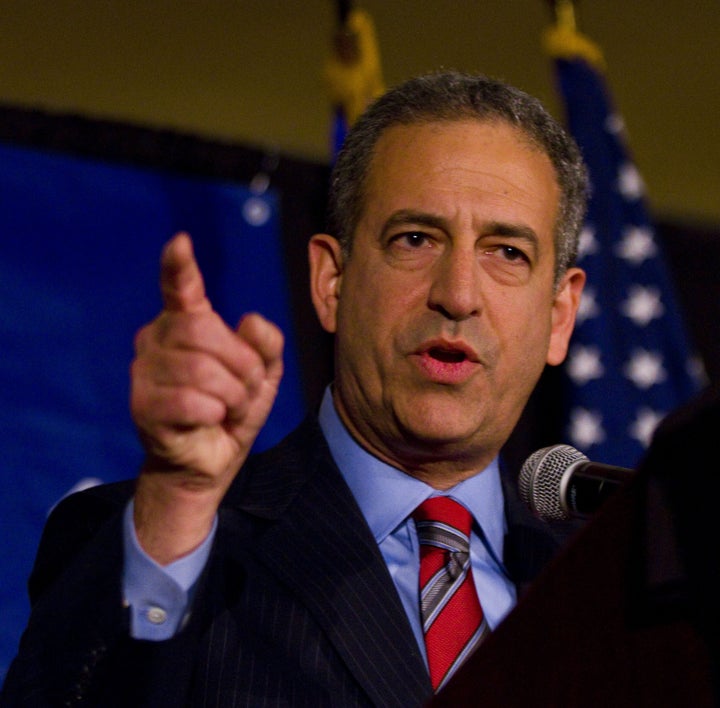 MADISON, WIS. -- Russ Feingold may no longer be in elected office, but he can still excite crowds of labor protesters who have rallied at the state's capitol for days with virtually no appearances by prominent politicians. And he wants other public figures who say they support workers to come out and join him.
With momentum and attention building, labor organizers anticipated that Friday's turnout would be the highest yet. By the time Feingold arrived around 11:00 a.m., thousands of people already swarmed the capitol, with many back from protesting earlier in the week or having even spent the night in the building's rotunda. The balconies looking down into the rotunda were nearly impassible, and crowds marched around outside readying for the noon rally.
Feingold went to the local fire station and brought its firefighters with him to the capitol. When he arrived, protesters cheered and some even broke into chants of "Feingold for Governor."
"I just feel enormous pride in the people of Wisconsin who are coming together -- whether union or anti-union -- for the rights of workers," Feingold said in an interview with The Huffington Post. "This state is one of the originators of many of the workers' rights and protections on child labor, unemployment compensation, and almost all kinds of workers' rights. The fact that our governor is trying to destroy those rights is something worth fighting against. And I, of course, as a citizen of Wisconsin, somebody who knows the state very well, was proud to just show up and keep my support."
While President Obama has criticized Walker's proposal, which would strip away the collective bargaining rights of public employees, he has yet to make an appearance. Wisconsin Sen. Herb Kohl, the state's one remaining Democratic U.S. senator, has put out a short statement on the protests but has not taken a visible role.
Dawn Schueller, a spokesperson for Kohl, said the senator has received more than 450 phone calls and 1,900 emails regarding the protests and Walker's proposal. Kohl is traveling to Wisconsin from Washington, D.C. on Friday, although she didn't yet have details on his schedule for next week.
Feingold said he believed any politician who purports to be pro-labor should be out in Madison.
"I can't imagine somebody who has supported labor and has the support of working people in the state wouldn't want to at least appear at some point," said Feingold. "It's a very meaningful and very difficult effort against one of the most mean-spirited things I've seen in a long time. I know people are busy, but to me it was gratifying to see everyone working this hard against something that's really terribly wrong. It's very inspiring."
"This is the kind of grassroots will overcome the power grab corporate America is now seeking to get," he said.
UPDATE: On Friday, Kohl put out another statement, blasted out by the Wisconsin Democratic Party: "So many of our friends and neighbors feel that the value of their important work serving Wisconsin is being questioned. This has been a week of unprecedented mobilization for things we all believe in. My hope is that the State Senate's adjournment offers an opportunity for cooler heads and bi-partisan solutions. The same voices that teach our young people and serve and protect our public institutions have a right to be heard at the bargaining table."
Calling all HuffPost superfans!
Sign up for membership to become a founding member and help shape HuffPost's next chapter