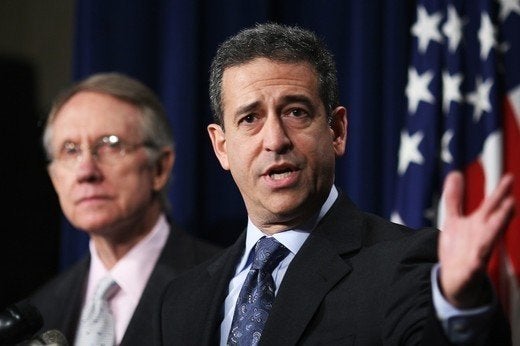 A clever fundraising campaign by Sen. Russ Feingold's (D-Wis.) campaign has netted $435,971 from more than 15,000 donors in just one day, aided by an aggressive e-mail solicitation push by several other senators. The campaign is set to reveal the numbers in an e-mail to supporters Thursday evening.
"My opponent multimillionaire Ron Johnson thinks his checkbook can decide this election. He's so confident about winning that he's already pledged to spend upward of $15 million of his own fortune, or 'all of it,' to win," read the e-mail sent out by the Feingold campaign on Wednesday. "Today, September 15, my campaign is launching our newest effort: '15 for 15 Cheddarbomb.' We'll match Ron Johnson's $15 million with the donations of 15,000 grassroots donors. This is our first-ever 'moneybomb' or as we call it in Wisconsin -- a 'Cheddarbomb.'"
The idea behind this fundraising solicitation seemed to be modeled on Rep. Ron Paul's (R-Tex.) famous "moneybomb", an aggressive grassroots fundraising push over a fixed period of time.
That same day, 11 Democratic senators -- Sherrod Brown (Ohio), Maria Cantwell (Wash.), Ben Cardin (Md.), Al Franken (Minn.), Tom Harkin (Iowa), Amy Klobouchar (Minn.), Bernie Sanders (Vt.), Chuck Schumer (N.Y.), Jeanne Shaheen (N.H.), Debbie Stabenow (Mich.) and Jon Tester (Mont.) -- also sent out e-mails promoting the Cheddarbomb. "Believe me, the last thing a Vikings fan like me would ever think to support is something called a 'Cheddarbomb,' read Franken's e-mail. "But while the Packers may be our rival, I'd do just about anything to help out my friend Russ Feingold."
The Wisconsin Senate race is being targeted by several national conservative organizations, including the Club for Growth, which announced that this week it's "dropping $1.5 million in television ad buys in five states to support it's conservative Senate candidates and paint their respective rivals as out of touch with the financial plight of average Americans." The states include Nevada, Florida, Colorado, Wisconsin and Pennsylvania.
"[Our opponent] Ron Johnson has said he will spend $15 million of his family fortune to buy a Senate seat in Wisconsin, and now his corporate friends from out of state are helping him," said John Kraus, a senior adviser with the Feingold campaign. "We may be outspent on TV but we will never be out organized, because Russ Feingold is an independent voice in Washington with grassroots support."
*************************
What's happening in your district? The Huffington Post wants to know about all the campaign ads, debates, town halls, mailings, shenanigans, and other interesting campaign news happening by you. E-mail us any tips, videos, audio files, and photos to election@huffingtonpost.com.
Popular in the Community